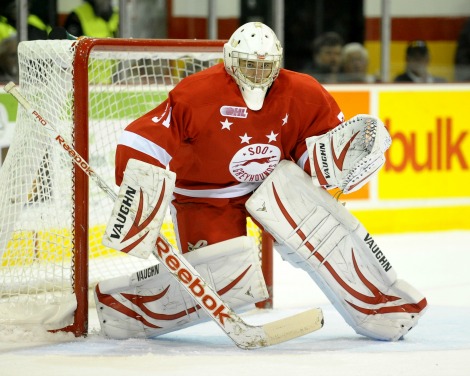 Soo Greyhounds goaltender Brandon Halverson will be heading to Lake Placid, New York later this summer.
The soon-to-be sophomore goaltender was among 42 players invited to the United States National Junior Evaluation camp, scheduled to open on Aug. 2 in Lake Placid.
Halverson is one of four goaltenders, two of which are from the Ontario Hockey League, invited to the camp.
The 18-year-old played in 19 games for the Greyhounds in 2013-14, posting a 12-6-1-0 record and a 2.96 goals against average with two shutouts.
A native of Traverse City, Michigan, Halverson is one of three goaltenders in camp eligible for the 2014 NHL Entry Draft.
The other goaltenders invited to the camp include Alex Nedeljkovic of the OHL's Plymouth Whalers, Portland Winterhawks (Western Hockey League) goaltender Brendan Burke and Thatcher Demko of Boston College. Demko was the third goaltender on the US National Junior team during the 2014 World Juniors in Malmo, Sweden.
Other OHL players invited to the camp include Oshawa forward Cole Cassels, Ryan Macinnis of Kitchener and Michael McCarron of London.
The team coaching staff also includes a tie to the twin-Sault area as video coach Adam Nightingale spent two seasons as a player at Lake Superior State University.
On the Canadian side, Hockey Canada's development camp is scheduled to open on Aug. 3 in Montreal, Quebec. The roster for the camp has not been unveiled yet.
The 2015 World Junior Championship is scheduled to open on Dec. 26 in Montreal and Toronto.
Photo by Aaron Bell/OHL Images