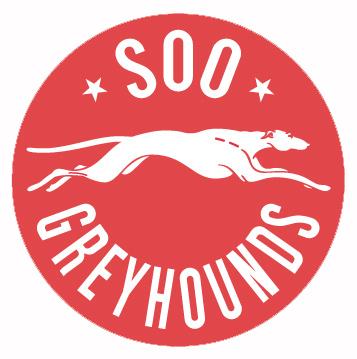 The Soo Greyhounds continued their push for their first West Division title since 2008 as they opened up a two-game weekend homestand Saturday night at the Essar Centre.
In front of an announced crowd of 4,129, the Greyhounds picked up a 2-1 win over the Kitchener Rangers. The win, combined with a 5-0 Windsor loss in Plymouth on Saturday, gives the Greyhounds a 10-point lead atop the division.
The win wasn't a pretty one for the Greyhounds
"We failed to adjust to the game," said Greyhounds coach Sheldon Keefe. "When you play top teams, they come at you. They open up and don't care who you are. Playing teams that have earned their way through everything and have to systematically come at you, you have to really earn your offence. (Kitchener) did a good job defensively and they come really hard offensively."
Keefe said the game was one that the team can learn from heading into the playoffs.
"This is what the playoffs are going to be about for us in the first round," said Keefe. "We're going to play teams that are going to challenge us to find different ways to find offence. They're going to hang around and every game is going to be tight. I'm pleased that they game worked out the way that it did for us. There's a lot more we can take out of this game than coming out of (Sunday against Guelph)."
Alex Gudbranson and Blake Speers scored for the Greyhounds in the win while rookie goaltender Brandon Halverson stopped 24 shots.
"He was solid," Keefe said of Halverson. "He made some good saves and either directed the puck to a safe place or held onto it. For his sake, I was glad that he was challenged like that. It would have been nice to see him get the shutout. I think he earned it."
Keefe was not pleased with the Greyhounds play in the second period. Through the first half of the period, the Rangers held a 10-1 shot advantage.
"The second period was painful to watch," said Keefe. "It was us refusing to adapt to the situation."
Said Rangers coach Troy Smith: "We didn't have a great first period but our push back was there (in the second period). It's just unfortunate that we weren't able to manufacture a goal out of those chances."
Brent Pedersen had the lone goal for the Rangers while goaltender Jordan DeKort stopped 19 shots.
"One thing we have to do as a team is try to manufacture more chances," said Rangers coach Troy Smith. "If you're going to throw the puck as his glove, a goalie like Halverson, he's going to stop it. You have to throw it at his feet and when we did that we scored."
Keefe noted the Greyhounds struggles offensively in the game, but was pleased with the defensive side.
"I liked a lot of things we did defensively," said Keefe. "We didn't give up our zone a whole lot and they didn't generate a lot but we had to find different ways to generate offence today and we didn't adapt to it. We tried to force the issue in a lot of cases and it led to not enough pucks getting at the net."
The Greyhounds have seven games remaining while Windsor has six in the battle for top spot in the division. That includes one more meeting between the two clubs, on Mar. 9 in Windsor.
The Greyhounds wrap up their short homestand on Sunday afternoon when they host the Guelph Storm in a 2 p.m. start at the Essar Centre. After that, the team prepares for four games on the road to wrap up that portion of their schedule. The road trip begins on Thursday night in London against the Knights.