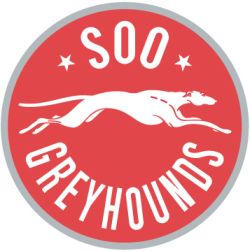 LONDON, ONT. – The Soo Greyhounds wrapped up a three-game road trip on Sunday afternoon with a 5-3 loss to the London Knights.
The loss marks the fifth straight for a Greyhounds team that drops their record to 9-11-1-0.
The two teams traded first-period goals as Colin Miller opened the scoring for the Greyhounds with a power play marker only to see Nikita Zadorov tie the game up 27 seconds later.
The Knights took a 2-1 lead in the second period when Matt Rupert scored just over six minutes into the frame. Andrew Fritsch would tie the game at two but Max Domi would score back-to-back goals, including giving the Knights the lead just 1:59 after Fritsch tied the game.
Josh Anderson of London and Greyhounds forward Michael Schumacher would round out the scoring with goals late in the third period.
Greyhounds netminder Matt Murray stopped 32 shots while Knights goaltender Jake Patterson, a Sault native, stopped 20 shots in the win.
The loss left the Greyhounds winless on the trip after losses in Kitchener on Friday and Owen Sound on Saturday night.
The Greyhounds now return home to open a three-game homestand that begins on Nov. 16 against Brampton.
OTHER SCORES: Brampton 5, Guelph 1; Kingston 5, Saginaw 4 (SO); Mississauga 2, Peterborough 1; Belleville 3, Ottawa 2; Sarnia 3, Sudbury 2; Kitchener 2, Oshawa 1