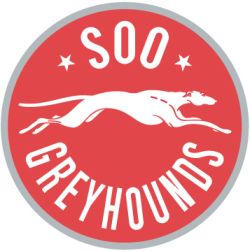 The Soo Greyhounds wrapped up a three-game road trip on Sunday afternoon on a tough note as they dropped a shootout in Kingston to the Frontenacs.
Henri Ikonen scored the only goal of the shootout to give the Frontenacs a 4-3 win over the Greyhounds at the K-Rock Centre in Ontario Hockey League action.
Ryan Sproul paced the Greyhounds in the loss with a goal and an assist. Trent Mallette and Tyler Gaudet also scored for the Greyhounds. Gaudet's goal, the first of OHL career, tied the game at three just under five minutes into the third period.
Justin Nichols stopped 20 shots for the Greyhounds.
Mike Morrison was solid in goal for the Frontenacs in the win, stopped 43 shots, including eight in the five-minute overtime where the Frontenacs killed off a pair of penalties.
Cody Alcock, Sam Povorozniouk and Roland McKeown scored for the Frontenacs.
With the loss, the Greyhounds record drops to 20-18-2-1 and they gain a point in the Western Conference standings on the Plymouth Whalers. The Greyhounds, currently seeded seventh, pull to within three points of the Whalers but the Whalers hold a pair of games in hand.
Of note, the Greyhounds entered the game as one of just two teams to have not lost in a shootout yet this season. The Frontenacs now remain as the lone team to have not lost a shootout decision this season.
The Greyhounds now return home for a three-game homestand that begins on Wednesday night against the Sarnia Sting. Puck drop on Wednesday night is 7:07 p.m.
****
OTHER SCORES
In Brampton, Cody Ceci had the shootout winner as the Ottawa 67's beat the Brampton Battalion 6-5. Ceci had a goal and two assists in regulation time as well for the 67's in the win. Sergey Kuptsov scored a pair of goals and an assist after being acquired from the Belleville Bulls earlier in the weekend. Sean Monhahan had four assists for Ottawa. Nick Paul and Mathew Santos had a goal and an assist each for the Battalion.
In Mississauga, Justin Sefton set up three goals to help the Sudbury Wolves to a 5-4 win over the Mississauga Steelheads. Nicholas Baptiste, Dominik Kahun and Josh Leivo had a goal and an assist each for the Wolves. Stuart Percy had a goal and two assists for Mississauga in the loss.
In St. Catharines, Charles Sarault had the shootout winner as the Sarnia Sting beat the Niagara IceDogs 2-1. Reid Boucher also scored in the shootout for Sarnia while Jordan Addresi scored in regulation time. Trevor Petersen scored for Niagara in the loss.
In Saginaw, Darien Ekblad stopped 28 shots as the Saginaw Spirit beat the Guelph Storm 3-2. Eric Locke set up a pair of goals in the win. Cody McNaughton and Zack Mitchell scored for Guelph.