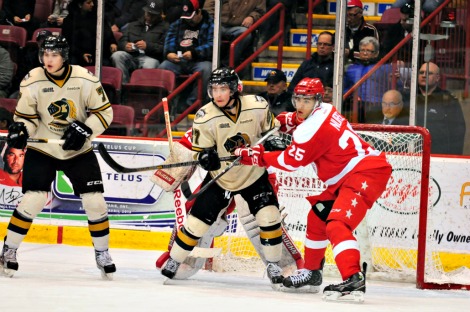 Next stop, Owen Sound and the Ontario Hockey League playoffs.
The Soo Greyhounds wrapped up the OHL regular season on Sunday night with a 6-2 loss to the London Knights at the Essar Centre. The win marked the 50th of the season for the Knights.
The game had no effect on the league standings and saw both teams rest numerous veteran players for the playoffs, which open up Thursday for the Greyhounds in Owen Sound and on Friday night at home against the Saginaw Spirit.
Both coaches saw the game as an opportunity to get some younger players playing time heading into the playoffs.
"For the most part, tonight was about getting through the game healthy and giving some of our young guys a really good opportunity," Greyhounds coach Sheldon Keefe said.
Said London coach Dale Hunter: "Our kids were good. Sometimes they don't get as much ice as they want, but this is their audition as to who is going to play in the playoffs. Whomever can play the best in these last few games will get to start on the fourth line (in the playoffs). It was a competition and the kids responded and played well."
Michael Schumacher and Nick Cousins scored for the Greyhounds in the loss while goaltender Justin Nichols stopped 22 shots in the loss.
"We got into some penalty trouble and that was the one area of the game that we couldn't get into trouble tonight," said Keefe. "That's the one area of the game that (London) would have had strong for them. They put five players that are all regulars (in the lineup) on the power play and we've got three defencemen that kill penalties in the stands and it happened the Darnell Nurse was in the box twice and we got scored on. The game got away from us right there."
Keefe said Sunday's game was not being used as a measure of the Greyhounds readiness for the playoffs.
"Nothing we were going to see tonight (Sunday) was going to reflect anything remotely close to the playoffs and we knew that going in," said Keefe.
Corey Pawley led the offensive attack for the Knights with a goal and two assists in the win. Brett Welychka scored a pair of goals for the Knights in the win. Justin Sefton, Ryan Rupert and Josh Anderson set up a pair of goals in the win. Ryan Hamelin, Kyle Platzer and Jacob Jammes also scored for the Knights.
Goaltender Jake Patterson, a Sault Ste. Marie native, stopped 30 shots.
"He was really good tonight," Hunter said of Patterson. "(The Greyhounds) had their chances and if he didn't stand strong like he did, the Soo could have won 6-2. He kept them off the board when they had some great scoring chances early in the game."
The Greyhounds now prepare to depart Wednesday for Owen Sound where they will open the playoffs on Thursday night against the Attack.
Photo courtesy Jim Egan