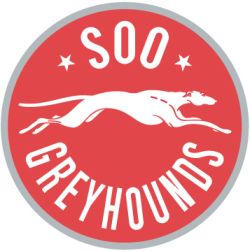 The Soo Greyhounds wrapped up their three-game road trip on Sunday afternoon with a 4-3 win over the Mississauga Steelheads.
The win allows the Greyhounds to keep pace with the Guelph Storm in the Ontario Hockey League's Western Conference standings. Thanks to wins by both clubs, the Greyhounds remain two points behind the Storm. Both teams have nine games remaining on their schedule.
The Greyhounds played the game without OHL leading scorer Nick Cousins. Cousins has been suspended indefinitely by the OHL after a hit thrown on London Knights defenceman Tommy Hughes on Friday night against London resulted in Cousins getting a major penalty for checking from behind. The Greyhounds also played the game without veteran forward Dylan Staples and overage defenceman Chris Buonomo. Both were reportedly healthy scratches.
For the Greyhounds, Andrew Fritsch scored the game-winning goal with 2:35 remaining in the third period to give the Greyhounds the victory. The goal came after Ryan Kirkup tied the game with his first OHL goal midway through the final period.
Michael Schumacher and Colin Miller also scored for the Greyhounds in the win. Sergey Tolchinsky assisted on three goals for the Greyhounds. Matt Murray got the start and stopped 28 shots in the win.
Kristoff Kontos scored a pair of goals for Mississauga in the loss. Defenceman Dylan DeMelo picked up two assists. Lucas Venuto had the other goal for the Steelheads.
The Greyhounds return to action on Wednesday night when they host the Sudbury Wolves at the Essar Centre.