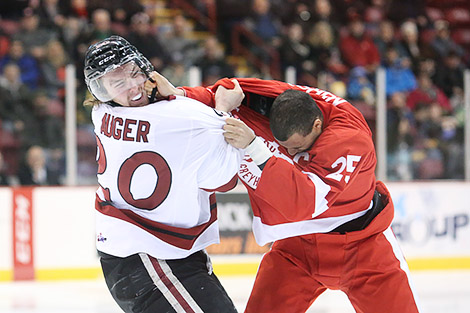 As good as some of their efforts have been, it's understandable if the Soo Greyhounds are feeling a little frustrated after facing the Guelph Storm.
The Greyhounds dropped a 4-3 shootout decision to the Storm on Sunday afternoon at the Essar Centre, their fourth loss of the season in four meetings with the Storm. The Greyhounds dropped an overtime decision and two other games in which Guelph scored into an empty net late to seal wins.
"At this point in the season it's about getting better as a team and through all the games we've played Guelph this season, what we've take away from it is that we know we can play with them," said Greyhounds coach Sheldon Keefe. "That's really what's important at this point. We've got the confidence that we can compete with them."
"We should have beaten them four times this year and I think they probably feel pretty similar in that each time they kind of escaped with the win and that's what we need to know," Keefe added. "They're the best team in the league and they don't need any more motivation."
With the Greyhounds up 2-0, things came unraveled as the Storm battled back to tie the game, beginning with a shorthanded marker on a bad line change by the Greyhounds. Zack Mitchell redirected a feed from Brock McGinn on a 3-on-1 to cut the Greyhounds lead to one.
"I've really never seen anything like it to be honest," Keefe said of the line change that led to Guelph's shorthanded goal. "(Guelph) had full possession of the puck and three of our guys think it's okay to change is shocking."
Later in the second period, Guelph tied the game at two just four seconds into a power play.
"Darnell shoots the puck over the glass when there's a lot of other plays to be made there and we lost the faceoff clean then it's an NHL shot that beats Matt," Keefe said of the second Guelph goal.
The two teams traded goals in the third period as David Miller put the Greyhounds up 3-2, only to see Guelph come back just over 90 seconds later on a goal by Justin Auger.
"On the third goal, we had a chance to get the puck out and we don't have enough urgency on it, it stays in and it's in our net," said Keefe of Auger's goal.
Sergey Tolchinsky and Tyler Gaudet also scored for the Greyhounds while goaltender Matt Murray stopped 33 shots.
"He was outstanding," Keefe said of the veteran netminder. "There's nothing he could have done on any of the three goals. Two of the three were big-time shots and the other was a three-on-one. He made a number of massive saves. When we made it 2-0, (Guelph) woke up and showed how dominant a team they are and we were a little overwhelmed and Matt held us in like we knew at some point in the game, he was probably going to have to."
Zack Mitchell and Nick Ebert had a goal and an assist each in addition to Auger's goal while Brock McGinn had the game winner.
"I didn't love our first period," said Guelph coach Scott Walker. "We were watching. Then we started to play our way in the second period and it was a tough third-period. It\s great though because that's the way you want to play. You have to be able to play in tight games."
Storm goaltender Justin Nichols stopped 39 shots in the win.
"When the game was on the line, he made some huge saves," Walkers said of Nichols. "That's what we were expecting. We wanted a bounce-back game from him and obviously we got it."
The Greyhounds now prepare for a four-game road trip that begins on Thursday night in London against the Knights.
To watch video highlights of the game click here.
Photo by Kenneth Armstrong for SooToday.com