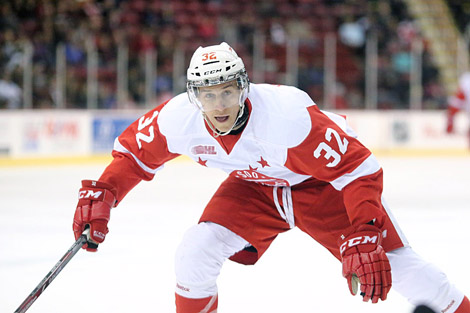 After what Soo Greyhounds coach Sheldon Keefe called their worst performance of the season, the Soo Greyhounds looked to rebound on Sunday evening.
In a game that had to be pushed back from 2 p.m. to 5 p.m. in order to allow their opponent some extra travel time north to face them, the Greyhounds picked up a 4-2 win over the Plymouth Whalers in Ontario Hockey League action Sunday night at the Essar Centre.
Despite allowing the Whalers to stay in the game at times, Keefe was pleased with much of the Greyhounds effort on Sunday.
"I would have liked to have seen us have a little better execution and score a little more to pull away a little bit sooner because we allowed them to hang around but it was a good effort for our guys," said Keefe.
The Greyhounds penalty kill came up big in the second period as they killed off a lengthy five-on-three at the end of the frame with the home side up 3-2.
With Tyler Ganly in the penalty box serving a double minor for high sticking, Darnell Nurse was hit with a high sticking penalty as well to give the Whalers the advantage, which they would not score on.
"We kept things very much to the outside," Keefe said of the late period kill. "Any of the shots they had, they didn't really have any traffic in front and Murray handled them well. We cleared a number of pucks which, on the five-on-three, is the key. You've got to eat up some seconds by clearing pucks and we did that. Any time you have two five-on-threes, one for a full two minutes, you don't get out of it without some good efforts from your players."
"It was a difference." Keefe added. "If they score one or two goals there, it's a much different game. I don't want to call it a turning point. We really carried the game five-on-five."
Said Whalers coach Mike Vellucci of the kill: "Obviously we've got to capitalize on a five-on-three but we really didn't have anything. We got a couple of shots that we blew over the net and Murray made a nice save on one."
Vellucci wouldn't call the five-on-three a turning point in the game but would call it a major difference.
"Usually you can say yes (that it was a turning point) but when we got up 2-1 we gave up the two quick goals," said Vellucci. "That was the turning point for me. We were in pretty good control of the first period and playing well. Then we gave up a couple of chances on those two goals."
Tyler Gaudet had a goal and two assists for the Greyhounds in the win while Patrick Watling, David Miller and Andrew Fritsch also scored for the locals. Goaltender Matt Murray made 28 saves for the Greyhounds.
The Greyhounds played much of the final two periods without sophomore forward Jared McCann. McCann spent a majority of the final 40 minutes on the bench after played roughly 90 seconds early in the second period.
Keefe was tight-lipped about the reasoning following the game.
"We'll call it a coaching decision and leave it at that," Keefe said of McCann
Matt Mistele and Connor Chatham scored for the Whalers while rookie goaltender Zack Bowman made 35 saves.
The win improves the Greyhounds record to 33-11-1-4 as they remain atop the West Division and second in the Western Conference.
Meanwhile, the Whalers record drops to 17-26-0-5 as they continue to battle for a playoff spot in the Western Conference.
The Greyhounds return to action as they wrap up a three-game homestand on Wednesday night when they host the Saginaw Spirit in a 7:07 p.m. puck drop.
Filie photo of Greyhounds forward Tyler Gaudet courtesy of SooToday.com's Kenneth Armstrong
For video highlights, click
To read SooToday.com's blog from Sunday's game, click here