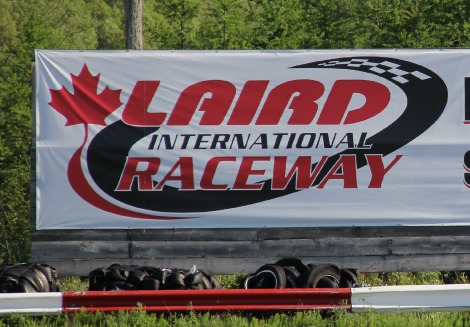 It was a week later than planned but the green flag has officially dropped on the 2014 race season at Laird International Raceway.
Due to a low car count in Outlaw Modified and Super Late Model, the two divisions ran a 20-lap feature together.
In what was the first feature race of the 2014 season at Laird, Corey Furkey drove his Super Late Model car to the first feature win of the season. Kevin Oicle finished second in his Outlaw Modified while Super Late Model driver Kyle Jarrett finished third.
The Laird Modified division saw Justin Jones win the 15-lap feature ahead of Dan Byrnes. Keenan Spurway finished third.
With just three cars running the feature, the Xtreme Four division ran a 10-lap feature with Shawn Greeley picking up the checkered flag.
Rebecca Fewchuk took the checkered flag in the Factory Four feature. Corey Carbone finished second to cap off a solid night. Carbone also had a win and a second-place finish during the heat races.
The night was full of action, which included four heat races in the Factory Four division due to a large car count that saw 16 cars compete in the division on opening day.
Action in week two on June 26 will see a full show with spectator drags set for the intermission.
****
HEAT RACES
Factory Four A Heat 1 – Buddy Palahnuk
Factory Four A Heat 2 – Buddy Palahnuk
Factory Four B Heat 1 – Michael Carbone Jr.
Factory Four B Heat 2 – Corey Carbone
Xtreme Four – Chase Wilson
Laird Modified – Dan Byrnes
Outlaw Modified – Kevin Oicle
Factory Stock – Jason Praysner
Super Late Model – Corey Furkey
****
QUALIFYING
Factory Four – Brent Fewchuk
Xtreme Four – Shawn Greeley
Laird Modified – Rick Ellis
Outlaw Modified – Kevin Oicle
Super Late Model – Kyle Jarrett