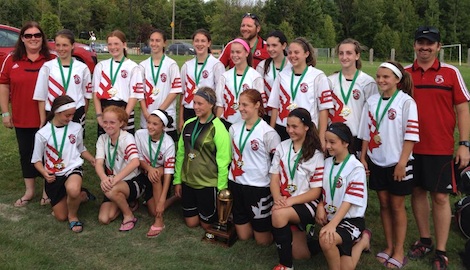 NEWS RELEASE
SAULT CIVICS 'SPIRIT' U13 Girls
*************************
The Sault Civics "Spirit" capped off an impressive weekend of play with a gold medal Sunday afternoon at the 2013 Gloucester International Soccer Tournament in Ottawa.
The Spirit won consecutive shutout round robin games 4-0, 4-0, and 3-0 against the Gloucester Green Swarm, the Gloucester Black Swarm, and the West Ottawa Warriors respectively.
They continued their strong defensive play into the semi final match in which they defeated the Green Swarm 3-0.
Advancing to the final Sunday afternoon, the Spirit took the sting out of the Black Swarm with a 1-0 victory to claim the gold medal.
Stellar defensive play combined with a quick and strategic offensive attack, allowed the Spirit to outscore their opponents 15-0 collectively over the weekend.
Head Coach Jared Klooster attributed the team's success to good ball movement, a solid defensive showing and strong team unity.
"Our girls really came together as a unit, working hard to achieve their goal. We really try to focus on the importance of team unity and this weekend they were truly a team. They were determined to come home with another gold medal for the Sault Civics Soccer program and their community. They represented themselves well both on and off the field in our nation's capital.
We are so proud off all of all of them!"
The Spirit were gold medalists in the U12/13 division at the 2013 Sudbury Impact Soccer Tournament two weeks ago and have their sights set on a successful showing at the Midland, Michigan 10th Annual Fusion Invitational Tournament August 23-25.
Team members include: Hailee Young, Heather Marsh, Emily Krysa, Star Harman, Summer Harman, Karlee Richer, Payton Ford, Emily Clarke, Abby Logan, Mia Giuliano, Kaitlyn Grawbarger, Emma Klooster, Madelin Meyers, Brooke Nelson, Annie Damignani, and Katherine Filion.
Coaches are Jared Klooster and Graham Nelson.
Team manager is Aileen Marsh.
The Spirit would like to thank the following sponsors for their support: Tenaris, Lemay's Decorating Centre, The Medicine Shoppe on Great Northern Road, SalDan and Rogue Transportation, Manulife Financial, NorthStar Brokers, G.K. Harten Trucking, Parmalat Canada, Systems International Machine Shop Ltd., George Wellington Esquire Club in Trust, Station Mall Merchants Association, The Athlete's Foot, Dawson and Keenan Insurance, Scott RNCE, Meyers Munchies, KPMG, Steelton Shoes, Dr. Crawford, Provenzano Law Firm, Elstrong Management Limited, GT Quick Lube and Automotive, Steel Speed, and Bridge Automotive.
*************************