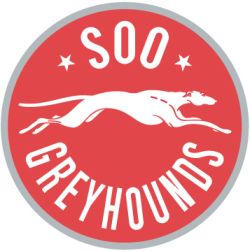 The Soo Greyhounds have an opportunity to cap off a three game road trip on Sunday afternoon with five of a possible six points.
After opening the trip on Thursday night with a win over the Sarnia Sting, the Greyhounds rode into London and came away with an overtime loss against the Knights.
The Greyhounds wrap up the trip at the Hershey Centre in Mississauga Sunday afternoon in the second of two regular season meetings between the two clubs.
The Greyhounds and Steelheads last met on Jan. 12 at the Essar Centre in Sault Ste. Marie where the Greyhounds picked up a 3-1 win. Nick Cousins paced the Greyhounds in the win with three assists while goaltender Matt Murray stopped 31 shots. Steelheads goaltender Spencer Martin stopped 38 shots in the loss.
The Greyhounds could be without Cousins for Sunday's matchup though as the OHL's leading scorer picked up a major penalty for checking from behind on Friday in London. Cousins was handed the penalty after a second-period hit on Knights defenceman Tommy Hughes in the London zone.
Both teams continue to battle for positioning in their respective conferences. The Greyhounds sit in a tie with the Sarnia Sting for sixth in the Western Conference with 69 points though the Greyhounds hold the advantage with a better winning percentage. The two teams are two points behind the fifth-seeded Guelph Storm. The Storm and Greyhounds each have 10 games remaining while the Sting have just seven.
The Steelheads are currently seventh in the Eastern Conference with 55 points. The team is three points behind the Niagara IceDogs and four points up on the Kingston Frontenacs.
Sunday sees a total of eight games on the schedule including the Greyhounds and Steelheads. The other seven games include:
Brampton vs. Kitchener (2 p.m.)
Erie vs. Kingston (2 p.m.)
Guelph vs. Sudbury (2 p.m.)
London vs. Saginaw (2 p.m.)
Ottawa vs. Belleville (2 p.m.)
Windsor vs. Plymouth (2:05 p.m.)
Oshawa vs. Peterborough (6:05 p.m.)
For details from Saturday's action in the OHL, click here.
***********************
Game Day Preview Proudly Sponsored by WINMAR:
Call WINMAR today at 705 946 8765 or click here for WINMAR Sault Ste. Marie!