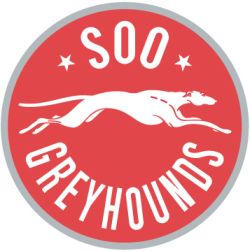 A lengthy string of road games kicks off on Friday night for the Soo Greyhounds as they trek down I75 in preparation for an important divisional matchup with the Plymouth Whalers.
The Whalers currently sit in top spot in the Ontario Hockey League's West Division standings, three points ahead of the Greyhounds with a game in hand. The divisional standings see just six points separating the top four teams:
Plymouth Whalers – 59 points (48 games)
Sarnia Sting – 57 points (48 games)
Soo Greyhounds – 56 points (49 games)
Saginaw Spirit – 53 points (49 games)
Windsor Spitfires – 47 points (49 games)
All five teams in the division are in action on Friday night.
The West Division championship takes on added importance thanks to the conference seeding system. The division winner gets one of the top two seeds in the Western Conference. In this case, the West Division champ would be seeded second heading into the playoffs behind the London Knights, who have a firm grasp on the top seed.
As the schedule continues to play out, Kitchener and Owen Sound look to have settled into the third and fourth seeds in the west, meaning the West Division winner would likely be the lone team from the division to grab home ice heading into the post-season.
Friday night opens a string of five-straight road games for the Greyhounds as they travel to Saginaw on Saturday night. Following a short break, the Greyhounds travel to Brampton (Feb. 7), Peterborough (Feb. 9) and Oshawa (Feb. 10) to complete the string on the road.
The Greyhounds have had their way with Plymouth this season, having won all four meetings between the two clubs. Most recently, the Greyhounds beat the Whalers 7-3 in Plymouth on Jan, 19.
The nine games on Friday's OHL schedule include:
Kingston vs. Barrie (7:00)
Erie vs. Niagara (7:00)
Plymouth vs. Sault Ste. Marie (7:05)
Saginaw vs. Peterborough (7:11)
Guelph vs. Windsor (7:30)
Kitchener vs. Owen Sound (7:30)
London vs. Brampton (7:30)
Mississauga vs. Oshawa (7:30)
Ottawa vs. Sarnia (7:30)
For details on Thursday night's action in the OHL, click here.
***********************
Game Day Preview Proudly Sponsored by WINMAR:
Call WINMAR today at 705 946 8765 or click here for WINMAR Sault Ste. Marie!