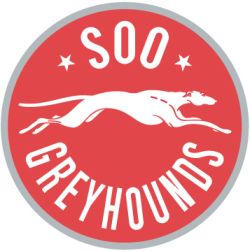 The Soo Greyhounds hit the road today as they travel to Sudbury to take on the Wolves in their lone road game of the weekend.
The Greyhounds enter the game on the heels of a 7-3 win over the Niagara IceDogs on Saturday night while the Wolves also faced the IceDogs in their last contest, a 4-3 overtime loss on Friday night at Sudbury Arena.
The Greyhounds returned from the Christmas break on Saturday night and received goals from six different players in the victory. Dylan Staples scored a pair of goals for the Greyhounds while David Broll, Alex Gudbranson, Nick Cousins, Sergey Tolchinsky and Ryan Sproul also scored. Michael Schumacher set up three goals in the win while rookie forwards Tyler Gaudet and David Miller had two assists each.
Miller was playing in his first OHL game after being called up by the Greyhounds earlier in the week. The sixth round pick in the 2012 OHL Priority Selection impressed in his first game as he took a regular shift on a line with Sergey Tolchinsky and Michael Schumacher. The spot is usually filled by Jared McCann, who is currently competing with Team Ontario at the World Under-17 Hockey Challenge.
Despite outshooting the IceDogs on Friday night, Steven Shipley scored the winner at 3:44 of overtime to give the IceDogs a 4-3 win over the Wolves. Mathew Campagna had a goal and an assist in the loss while Nathan Pancel had a pair of assists. Nicholas Baptiste and Jacob Harris also scored.
The Wolves are currently without import forward Dominik Kahun who is currently in Ufa, Russia competing with Team Germany at the World Junior Hockey Championship.
Sunday will be the fourth meeting between the two clubs this season. The Greyhounds have won the previous three meetings, including a 4-3 shootout win on home ice on Nov. 28 in their last meeting.
Greyhounds goaltender Matt Murray is 3-0 against the Wolves this season with a 2.92 goals against average and a save percentage of .931. Overage forward Brandon Alderson and defencemen Colin Miller and Darnell Nurse each have four points against the Greyhounds northern rivals this season.
***********************
Game Day Preview Proudly Sponsored by WINMAR:
Call WINMAR today at 705 946 8765 or click here for WINMAR Sault Ste. Marie!