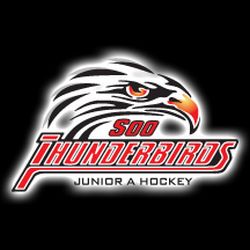 Forward Ryan Erickson's tenure was a quick one with the Northern Ontario Junior Hockey League's Soo Thunderbirds.
The Thunderbirds have dealt the 19-year-old to the Hamilton Red Wings of the Ontario Junior Hockey League.
"I took a chance on him as part of the deal with Pembroke so I could get good value for Joel (Horodziejczyk)," Thunderbirds General Manager Kevin Cain said in an email. "I had heard he may go to school but I knew I could move him if that was the case."
Erickson was acquired by the Thunderbirds in early June. The Sudbury native was involved in the trade that sent goaltender Joel Horodziejczyk to the Central Canadian League's Pembroke Lumber Kings. The deal also saw forward Jake Staples acquired by the Thunderbirds.
Erickson is enrolled in classes at McMaster University for the fall semester.
Erickson played two seasons in Pembroke prior to being acquired by the Thunderbirds.
In return, the Thunderbirds receive financial considerations (a player development fee) from Hamilton.