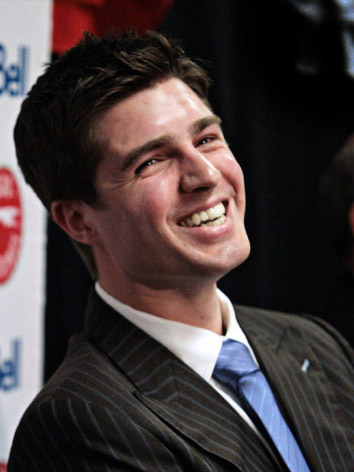 In three short seasons, Kyle Dubas has inched even closer to a general manager's job in the National Hockey League.
News broke on Tuesday morning that Dubas has been hired by the Toronto Maple Leafs as their new assistant general manager.
"I'm really looking forward to the opportunity," Dubas said. "I didn't grow up a Leaf fan but being around here today, you learn really quickly the passion and excitement that people have."
Dubas called the three years he spent with the Greyhounds "a stepping stone" to his new title in Toronto.
"It's going to be a lot like the Soo only on a much bigger scale," Dubas said. "Having had the fortune to work in the Soo and work as the general manager of the Soo Greyhounds is a great stepping stone for this and one that will really help."
The move comes as the Leafs also announced the departures of Vice President of Hockey Operations Dave Poulin and Vice President and Assistant General Manager Claude Loiselle.
"The chance to work for the Toronto Maple Leafs is like a dream come true," Dubas said in a Leafs-issued release. "I'm truly excited to begin helping this team win and learn from men like Brendan Shanahan and Dave Nonis. I'm very thankful for this opportunity, but equally grateful to the Greyhounds organization and the city of Sault Ste. Marie for helping put me in this position. The Leafs are focused on building a team that will enjoy long-term success and I am excited to play a role in it."
"Kyle is a young executive that has made a strong name for himself in hockey with a progressive style, work ethic and maturation beyond his years," Maple Leafs president Brendan Shanahan said in a release. He has a fresh approach that we feel will benefit our club for years to come."
The process in hiring Dubas was one that was roughly 10 days in the making.
"I had a long talk with (OHL Commissioner) David Branch, who suggested that Kyle would be a good person to get to know," Shanahan continued. "(The conversations with Dubas) got to a point where I said I'm going to have to call the Sault Ste. Marie Greyhounds. I wanted to have permission to talk to him about potentially working for us."
Leafs General Manager Dave Nonis was not in attendance at the announcement due to a prior commitment, but did offer his thoughts in a team release.
"We're excited about the addition of an up-and-coming hockey executive in Kyle," Nonis said. "He is an innovative thinker that will bring enthusiasm and impressive abilities to our club. His work ethic, character and demonstrated leadership in Sault Ste. Marie make for a valuable combination that will certainly have a positive impact on our organization in many ways."
During his three-season tenure as general manager, the Greyhounds put together a 109-76-7-12 record. The 2013-14 season saw the team win the OHL's West Division title.
During his three seasons, the Greyhounds also saw 14 players drafted by NHL teams.
The team has begun the search for Dubas' replacement. The team reports that Dubas will be involved with the search and eventual hiring of the team's new general manager as well as helping the new candidate ease into the new role.
File photo: Kenneth Armstrong/SooToday.com