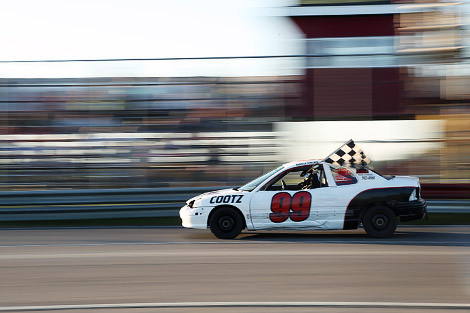 A high-speed crash in the Super Late Model division was the talk of week two at Laird International Raceway on Thursday night.
The Super Late Model division saw its 30-lap feature race cut short after a crash that caused heavy damage to a pair of cars in the process.
After a caution flag, the five cars left in the race were coming to a green flag to restart the race.
As the cars exited turn four, Corey Furkey passed Steve Baraluk prior to the start line, leading to another caution flag. With Furkey still heavy on the gas pedal and the remainder of the group slowing down. Justin Jones would lose control in turn two and his spinning car left Furkey nowhere to go and the two cars would come together, leading to Furkey's car flipping over and sliding down the backstretch on its roof.
Both cars suffered heavy damage but the two drivers were both ok.
The race would be ended after the incident with the results reverting back to the last completed lap meaning Jones would be declared the feature race winner.
In other feature action on Thursday night, Jason Praysner capped off a sweep in the Factory Stock division thanks to a win in the 20-lap feature race. The win came after Praysner won the heat race.
Dan Byrnes won the Laird Modified division feature while Brent Fewchuk capped off a solid night for the Fewchuk family with a feature win in the Factory Four Division. The win came after his sister Rebecca won a pair of heat races in the division earlier in the night.
Damon Dubas won the Xtreme Four division feature.
The Outlaw Modified division was the lone division not to run on Thursday night as the class is splitting time this season with the Super Late Model Division. The two divisions are alternating race nights this season. The Outlaw Modified division will run on July 3, which is the next night schedule.
July 3 will feature a full race night program.
****
HEAT RACES
Factory Four A Heat 1 – Buddy Palahnuk
Factory Four A Heat 2 – Buddy Palahnuk
Factory Four B Heat 1 – Rebecca Fewchuk
Factory Four B Heat 2 – Rebecca Fewchuk
Xtreme Four – Chase Wilson
Laird Modified – Rick Ellis
Outlaw Modified – N/A
Factory Stock – Jason Praysner
Super Late Model – Corey Furkey
****
QUALIFYING
Factory Four – Corey Carbone (18.125)
Xtreme Four – Damon Dubas (18.122)
Laird Modified – Keenan Spurway (15.058)
Outlaw Modified – N/A
Factory Stock – Jason Praysner (16.038)
Super Late Model – Chris Jones (14.549)
Photo: Rebecca Fewchuk displays the checkered flag during a victory lap after one of her two heat race wins at Laird International Raceway on Thursday night. Kenneth Armstrong/SooToday.com