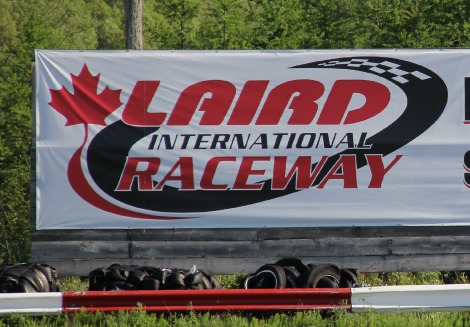 The top two drivers in the Factory Stock division points standings at Laird International Raceway showed exactly why they are in that position on Thursday night.
Jason Praysner maintained his lead atop the division with an important feature win, but gaining ground was tough as J.P. DelPaggio took second and continues to sit in second spot in the points standings. John Ross finished third in the feature.
In the Super Late Model division, Steve Baraluk led the first 13 laps of the feature race only to have car issues end his night early. Rob Hiiemaa would eventually take the checkered flag for the feature win ahead of Kevin Errington and divisional points leader Keith King.
The Laird Modified division saw Nick Kozak make a return and pick up the feature win. Kozak drove the 92 car after original driver Justin Jones saw his night end early following the heat race. Track officials ended Jones night after an incident following the heat race. Keenan Spurway took second.
The Factory Four division saw Corey Carbone pick up the feature win. Last week's feature winner, John Carter took second while Brent Fewchuk was third.
With just two cars, the Xtreme Four feature was cut down to 10 laps from the originally scheduled 15. Jamie Wilson took the checkered flag with Damon Dubas finishing second.
Action continues at Laird with a full race program on Aug. 21.
****
POINTS STANDINGS (top five in each division)
Factory Four
1. Brent Fewchuk (230)
2. Buddy Palahnuk (211)
3. Rebecca Fewchuk (208)
4. John Carter (205)
5. Chelsea Pace (202)
Xtreme Four
1. Chase Wilson (199)
2. Damon Dubas (198)
3. Jamie Wilson (197)
4. Dawson Wilson (85)
5. Shawn Greeley (84)
Factory Stock
1. Jason Praysner (245)
2. J.P. DelPaggio (210)
3. Jarrit Varcoe (195)
4. Mark Porpealia (173)
5. Ron Raynor Jr. (107)
Laird Modified
1. Keenan Spurway (232)
2. Justin Jones (205)
3. Kevin Oicle (154)
4. AJ Daniel (120)
5. Rick Ellis (117)
Super Late Model
1. Keith King (214)
2. Justin Jones (166)
3. Dab Byrnes (120)
4. Jay Palumbo (117)
5. Steve Baraluk (94)
****
HEAT RACES
Factory Four A – Nick Maione
Factory Four B – Brent Fewchuk
Xtreme Four – N/A
Laird Modified – AJ Daniel
Outlaw Modified – N/A
Factory Stock – Mark Porpealia
Super Late Model – Justin Jones
****
QUALIFYING
Factory Four – Corey Carbone (17.774)
Xtreme Four –Damon Dubas (15.979)
Laird Modified – Keenan Spurway (15.259)
Outlaw Modified – N/A
Factory Stock – Jason Praysner (15.910)
Super Late Model – Keith King (14.426)