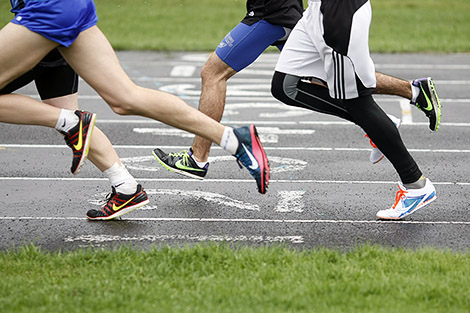 The Sault Ste. Marie city track and field championships kicked off Wednesday afternoon, despite heavy rains earlier in the day.
Track events included the 400 meter dash, 1500 meter run and 1500 meter steeplechase, with additional events to take place Thursday.
The closest finish occured in the junior boys 1500 meter run, where White Pines runner Jerryd McLeod finished just twenty-three hundredths of a second behind James Mesich of Superior Heights.
"I saw he was ahead of me, so i leaned my chest forward and i guess i went too far," said McLeod, who picked up a nasty road rash when he fell at the finish line.
Sabrina Marsh, didn't let the wet weather slow her down, winning the senior girls 400 meter dash for Korah Collegiate.
"It's nice, it's track weather. The way it's supposed to be," said Marsh.
Marsh, who hopes to continue running for future university varsity teams, said this is an important meet to attain the goals that she has set for herself.
"I have been training for months on end for this result and it's pleasing that I got what I wanted," said Marsh, who is also set to run in the 800 meter, 400 meter hurdles and the 4 by 400 meter relay on Thursday.
Chris Kramer from St. Basil Secondary finished first in the senior boys 400 meter dash, having won the same event at NOSSA last year.
"It's a big thing for me, being my last year I'm trying to go out with a bang and run as fast as I can in my three races," said Kramer, who will be running with the track team at Windsor University next year.
Races scheduled for Thursday include the hurdles, relays, long-distance and sprinting events.