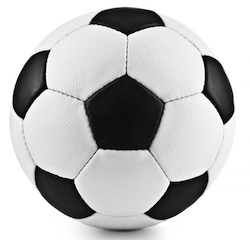 PRESS RELEASE
SAULT CIVICS SOCCER
************************
Sault Civics Spirit Takes Gold at A.C. Douglas Soccer Tournament
The Sault Civics Spirit U14 Girls White took gold this past weekend at the A.C. Douglas Soccer Tournament in Niagara Falls, Ontario.
The Spirit tied their first two games, 0-0 against the Innisfil Stampeders and the Welland Wizards, which sent them to a quarterfinal match Sunday morning. After handily defeating the Clearview Green 8-0 in the quarterfinal, the Spirit went on to win the semi final against the Port Colbourne Storm, 1-0. In the final match, once again the Spirit faced the Welland Wizards. After going down one goal early in the match, the Spirit rallied, scoring twice, and held on to the 2-1 lead to claim gold. Head coach Jared Klooster commented on the Spirit's success after Sunday's win.
"The girls played well defensively all weekend but had a little trouble finding the back of the net on Saturday. They persevered and were able to get the scoring touch back on Sunday. They definitely put in a great team effort at this tournament and represented our community well."
The Spirit will conclude their season August 23-24 in Midland, Michigan at the Fusion Invitational Tournament.
The U14 Sault Civics Spirit members include: Hailee Young, Emily Krysa, Star Harman, Summer Harman, Payton Ford, Emily Clarke, Abby Logan, Mia Giuliano, Kaitlyn Grawbarger, Emma Klooster, Madelin Meyers, Brooke Nelson, Annie Damignani, and Katherine Filion. Coaches are Jared Klooster and Graham Nelson. Team managers are Lana and Rob Krysa.
The Spirit would like to thank the following sponsors for their support:
Veracity Asset Mgt. Group, Great Lakes Bus Tours, The Athlete's Foot, Marconi Club, Lemay's Decorating Centre, Manulife Financial, Dr. Crawford, NorthStar Brokers, G.K. Harten Trucking, Parmalat Canada, Systems International Machine Shop Ltd., Esquire Club, Station Mall, Dawson and Keenan Insurance, , Meyers Munchies, KPMG, Elstrong Management Limited, GT Quick Lube and Automotive, Steel Speed, Dr. Chong, Maxwell's Hair Salon, and Law Office of Lynn Tegosh.
************************