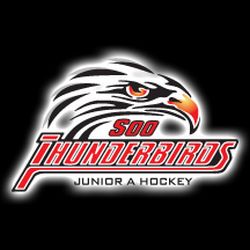 Just 10 days after taking the Soo Thunderbirds to overtime, the Elliot Lake Bobcats picked up a 5-3 win over the Thunderbirds in Elliot Lake on Wednesday night.
Bobcats goaltender Cory Simic stopped 45 shots in the win.
Steve Gaul, Brian Henessey and Dustin Cordeiro each had a goal and an assist in the win. Nicholas Tassone and Kyle Rowe also scored for Elliot Lake in the win.
Derek Battagin and Dallas McLaughlin scored for the Thunderbirds in the loss. Anthony Miller also scored. Goaltender Joel Horodziejczyk stopped 32 shots in the loss.
The Thunderbirds return to action on Friday night when they're back in Elliot Lake to take on the Bobcats.
The lone other Wednesday night game in the NOJHL between Sudbury and Kirkland Lake was postponed due to adverse weather conditions in the north. A make-up date has not been announced.