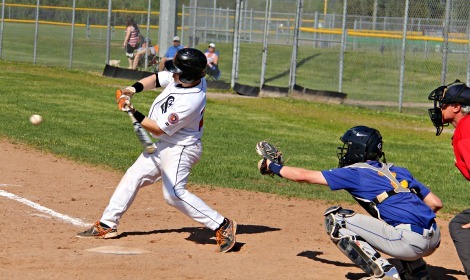 The 20th annual Black Sox Invitational baseball tournament opened on Friday evening with a pair of games including the first game for the local Soo Black Sox midgets,
The Black Sox opened the tournament against the Sault, Michigan-based EUP Post 3 Travelers, dropping an 8-2 decision in the tournament opener.
The Black Sox struggled defensively in the loss, making five errors in a game that saw them give up four unearned runs. Of the four unearned runs, three came in a tough fourth inning that saw the locals give up four runs on just one hit.
"It was another case of us beating ourselves," said Black Sox manager Mike Lebel. "We couldn't make the plays that needed to be made. Our pitcher walked a guy and then hit a guy and then there were throwing errors and that took the wind out of our sails. We were down 4-0 and we never recovered."
The Black Sox struggled at the plate as well with just three hits in the contest. Travelers pitcher Tyler Snyder pitched six innings, striking out 11 in the win.
I'm not trying to take anything away from (Snyder) but our guys have to be able to put the ball in play," said Lebel. "We're going to see better pitching as we go along through the summer."
Jacob Casey knocked in a pair of runs for the Travelers in the win.
In Friday's other game, the defending champions from Gladwin beat Team North 24-0.
Photo: Black Sox hitter Coty Anderson with one of three hits by the Black Sox in Friday's 8-2 loss to the EUP Travelers