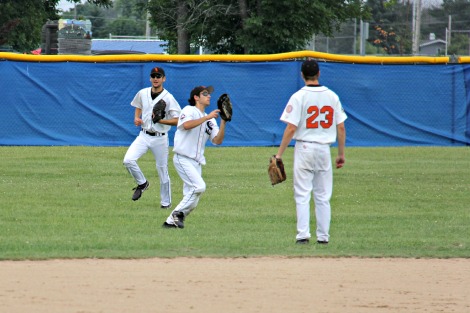 SAULT STE. MARIE, MICH. – The Soo Black Sox were in action over the weekend as they competed in the Lynn Auto Parts Invitational hosted by the E.U.P. Travelers.
The team finished the weekend with an 0-4 record, mostly in part due to surrendering big innings to their competition.
"For the most part I was happy with the way we played," said Black Sox Coach Mike Lebel. "It just seemed to be that we would come into one bad inning and the wheel would fall off and we could never regroup and shut it down before it got away from us."
The Black Sox opened the tournament with an 8-0 loss to the Marquette Blues, managing just a pair of singles offensively. Eric Thornton and Adam Bouillion had the lone hits for the Black Sox.
In game two, the Black Sox dropped an 11-1 decision to the Escanaba Cubs after surrendering seven runs in the sixth inning, capped off by a three-run homerun by Devin Olsen.
Connor Henderson reached base three times in the loss with three walks while Dom Buonomo and Zach Duchesne each reached base twice. Buonomo had a pair of singles while Duchesne walked twice.
In game three, a five-run fifth inning led to an 8-3 loss by the Black Sox to the Gladstone Indians. Thornton had a pair of doubles and a walk while Brock Barry walked three times. Duchesne had two walks and scored a pair of runs.
The Black Sox wrapped up the tournament with an 8-6 loss to Hancock. The locals fell behind 8-1 early before mounting a comeback that came up just short. Thornton had a double and a single in the loss while Buonomo chipped in with a pair of singles. Henderson had a two-run double offensively in the loss.
Sanford Post 443 came away as the tournament champions, beating Marquette 9-5 in Sunday's championship game. The host E.U.P. Travelers dropped a 5-2 decision to Marquette in the semi-final.
The Black Sox are back in action when they host the Travelers in a 7 p.m. start on Tuesday night.
Photo: Soo Black Sox left fielder Connor Henderson (centre) makes a catch during a tournament game against Marquette on Friday