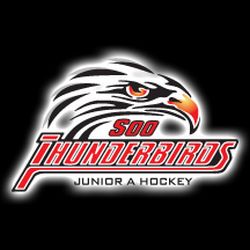 The Northern Ontario Junior Hockey League playoffs are in full swing and the league has seen an upset, albeit just in a series opener.
The regular season champs opened their first round playoff series on Saturday night at the Essar Centre as the Soo Thunderbirds faced the Blind River Beavers but it was the Beavers who drew first blood.
Jacob Boisvenue scored at 6:27 of the third period to lift the Beavers to a 3-2 win over the Thunderbirds to take a 1-0 series lead over the regular season champs. The goal capped off a two-point night for Boisvenue, who also picked up an assist in the win.
The win came after the Thunderbirds had opened up a 2-0 lead before the game was seven minutes old thanks to goals by Darcy Haines and Nathan Hebert in the first period.
Jacob Zarzycki scored a pair of goals for the Beavers to tie the game at two and set the stage for Boisvenue's game winner in the third, which was set up by Zarzycki for his third point of the night.
Beavers goaltender Jessie Morin stopped 34 shots in the win while Joel Horodziejczyk stopped 12 of 15 shots for the Thunderbirds in the loss.
The series resumes on Sunday in Blind River. Puck drop for game two is set for 4 p.m. Game three is in Sault Ste. Marie on Thursday night.