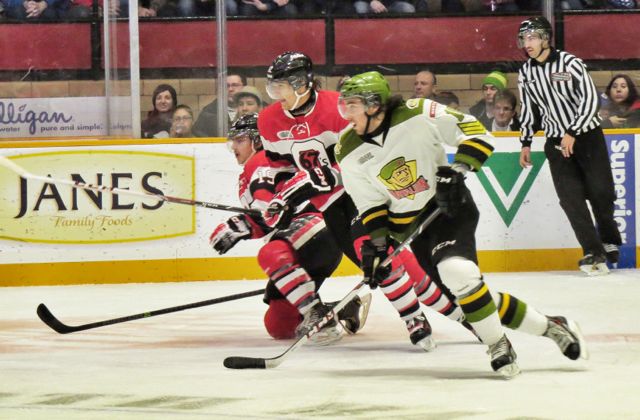 North Bay Battalion centre Michael Amadio will be among the 119 players invited to the NHL Draft Combine taking place from May 26th to 31st in Toronto.
Amadio, who hails from Sault Ste. Marie, comes in to the the event rated 68th by NHL Central Scouting for North American Skaters.
In 2013-14, the Sault Ste. Marie native recorded 12 goals and 26 assists totalling 38 points in 64 regular season games. He followed up with 4 goals and 5 assists in 22 playoff games for the Troops in their trek to the OHL final.
The NHL Draft combine was expanded this spring to 119 players from only 75 in the past.
The combine consists of 3 elements (team interviews, medical examinations, physical testing) and players participate in all segments.
Other notable invitees include former Battalion forward Blake Clarke, who started the year as a 1st round draft prospect but has slipped all the way to 134th in Central Scouting Rankings.
Clarke was sent to the Saginaw Spirit during the Christmas Holidays in exchange for forward Zach Bratina.
Also, Ryan Mantha of the USHL's Indiana Ice received an invitation to the combine.
The 149th ranked 6'4", 225 pound defenceman is the son of former North Bay Centennial Bob Mantha.
Oshawa Generals goaltender and North Bay native Kenny Appleby was not on the invite list but he's still expected to be taken in the later rounds of the 2014 NHL Entry Draft which takes place in late June in Philadelphia.
(PHOTO: Battalion forward Michael Amadio has been invited to the NHL Scouting Combine. Lisa Cancade-Hackett)