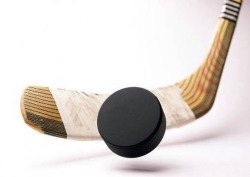 SooToday.com received the following notes from the Soo Greyhounds AAA Minor Bantams as well as the Soo Thunder Minor Midgets, who were both in action over the weekend.
****
The Algoma Industrial Soo Greyhounds AAA Bantam Minors took four of a possible six points on the weekend against the Sudbury Wolves, on the strength of two game winning goals by Nolan Makkonen.
In the first game, the Hounds lost 4-2 including an empty net goal given up in the last minute. Lucas Stefano scored two goals while assists went to Makkonen, Mark Tassone, and a pair to Holden Brock. Garrett Boyonski took the loss in net.
Game two saw the Soo team coming from behind to win 2-1. The teams exchanged goals that were created by big bounces off the end boards in the third period. Dyllon Anderson scored for the local squad with assists going to Nick Smith and Daniel Mills. Makkonen then played the hero with the game winning goal with only four seconds remaining. Makkonen's goal was assisted by Stefano, and Brock. Matthew Reid got the win in net.
Sunday morning's game saw Makkonen get the winner with 6:43 remaining and the home squad hold off the surging Wolves to hold onto the win. Other goals were scored by Brock, Stefano and Anderson. Assist went to Tassone (two), Mills, Dylan Gauthier, Stefano, and Brock. Boyonoski and Reid split the duties in the win.
The Hounds travel next weekend to Marquette for three games.
****
The Soo Thunder Minor Midgets were away this past weekend at the Silver Stick Finals in Whitby. All the top rated minor midget teams were there to showcase their talents in front of scouts form every OHL team in attendance.

The Thunder started the weekend with a 4-2 win over the Mississauga Senators. Scoring for the Soo was Blake Speers, Matthew Caruso, Adam McPhail, and Jacob Palmerio.
In game two, the Soo battled through a slow start. Two goals from Speers and a single from Frankie Pucci gave the Thunder a 3-2 win over the Eastern Ontario Wild.

On Saturday morning the Soo continued on their winning ways with a 4-1 win over the Huron Perth Lakers. Scoring a pair of goals for the Soo was Nick Sicoly. Caleb Boman and Speers chipped in with singles.
Despite being 3-0 the Thunder needed a win or a tie over the Whitby Wildcats to win the division and advance to the quarter finals. The Soo went down 2-0 early in the game but a three-goal second period gave the Thunder a 3-3 tie and first place in the division. Scoring for the Thunder were Speers, Sicoly and Jason Uhl.

The Thunder had to play the Toronto Marlies in the quarter finals. Despite it being the third game of the day for the Soo, the score was tied 1-1 after two periods but three unanswered goals by the Marlies in the third spelled the end of the Thunder`s run. Scoring the lone goal for the Soo was Cole Lussier.
****