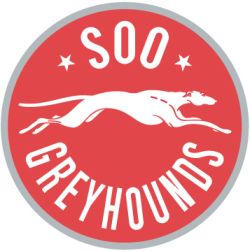 PRESS RELEASE
SOO GREYHOUNDS MINOR BANTAM AAA
********************
The Algoma Industrial Soo Greyhounds AAA Bantam Minor split their three game series with the Nickel City Sons allowing them to maintain first place in the Northern Ontario Bantam Hockey League for the locals.
In the first game, the Hounds beat the Sons by a score of 4-1 in what could be described as their highest energy level of the season so far. Hound goal scorers were Holden Brock (two), Gage Stephney, and Mark Tassone. Assists went to Tyler Fahrer, Steven Khull, Lucas Stefano, Zachary Taylor and Brock.
In game two, the physical play continued to wear down the Hounds and they finished the game with only 11 skaters holding on to a 3-3 tie. Goal scorers were Tassone (two) and Nicholas Smith while assists went to Stefano and Brock with three each.
In game three, a slow start saw the Hounds go down by three after one period but they stepped up and battled back and tied it at three after two periods. The final frame saw a pair of late goals for the Sons to even the weekend series after their 5-3 win. Soo goal scorers were Smith (two) and Stefano while assists went to Darrell Baker, Tassone, Stephney and Liam Brescacin. Garrett Boyonoski was in net for all three on the weekend.
The Hounds are back in league play next weekend when they travel to North Bay for a three game set.
********************