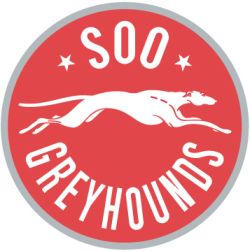 PRESS RELEASE
SOO GREYHOUNDS AAA MINOR BANTAMS
********************
The Algoma Industrial Soo Greyhounds slow start costs them 2nd place as they go 1-2 on the weekend losing home ice advantage in the playoffs to the Minor Bantam AAA Trappers.
In the Saturday afternoon game, the Soo lost 3-2 after giving up three straight goals early in the first period. Goals from Daniel Mills and Lucas Stefano left the Hounds one goal short of the comeback. Zachary Taylor got two assists while Holden Brock got one. Garrett Boyonoski and Matt Reid shared the duties in net.
Saturday evening's game was another close affair as the Trappers scored with only seconds remaining to steal a 2-1 victory from the Hounds. The Hounds lone goal came from Holden Brock assisted by Mark Tassone and Stefano. Reid took the loss in net.
In game three, the Soo got ahead for the first time of the weekend and never gave up the lead. Gage Stephney led the Hounds with two goals and two assists. Taylor collected one goal and two assists while lone goals went to Nolan Makkonen, Justin Ryyppo and Tassone. Single points went to Darrell Baker, Steven Khull, Stefano and Brock. Matt Reid got the win in net
The Hounds will now host the Green Bay Gamblers next weekend.
********************