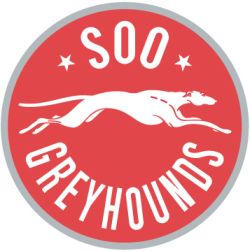 PRESS RELEASE
SOO GREYHOUNDS AAA MINOR BANTAM
********************
The Algoma Industrial Soo Greyhounds AAA Bantam Minors split the weekend with a win, lose and tie against the Marquette Legion Hockey team.
In the Saturday afternoon game the Soo won 2-1. Goals came from Holden Brock and Zachary Taylor, with assists to Liam Brescacin, Mark Tassone, Lucas Stefano and Brock. Garrett Boyonoski earned the win in net.
Saturday evening's game saw the Soo come out tentative and drop the decision 4-2 after an empty net goal. Gage Stephney scored both goals for the locals while assist went to Darrell Baker (two), Steven Khull and Nolan Makkonen. Matthew Reid took the loss in net.
In game three, Marquette scored with one second remaining to tie the game, and split the weekend. The locals received goals from Stefano and Baker with the setup going to Taylor and Stephney. Boyonoski was in net for the tie.
The Hounds are now off to Sudbury next weekend for three games of League play against the Nickel City Sons.
********************