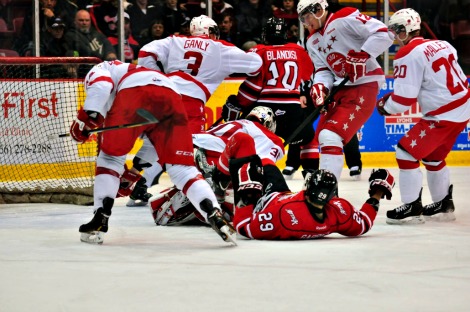 The result wasn't what they wanted but the Soo Greyhounds were pleased with just about everything else on Saturday night against the Owen Sound Attack.
The Greyhounds dropped a 2-1 decision to the Attack on Saturday, ending a three-game homestand with two wins and a loss.
The Greyhounds outshot the Attack 33-27 and Owen Sound netminder Jordan Binnington was forward to make 32 saves, including a pair of important stops in the late stages of the third period with the Attack up 2-1 on Ryan Sproul and then David Broll on the rebound to preserve the victory.
Greyhounds coach Mike Stapleton spoke following the win of how pleased he was with the effort of the team in recent games.
"We've had some good games and this was one of our best efforts," Stapleton said. "It's a different team when you have all the pieces in place. We just have to continually build off of it. It's disappointing that we didn't come out with the two points but we played extremely well."
Stapleton added that he felt the team deserved a better fate in the loss.
"I thought we did," Stapleton said. "It's unfortunate when you can't control your own outcome."
Sproul had the lone goal in the loss while goaltender Matt Murray stopped 25 shots for the Greyhounds (13-14-2-0).
Attack coach Greg Ireland spoke highly of Binnington, who earned career win No. 70 with the victory, following the win and talked about the importance having a leader in goal.
"Hockey is like every sport in that you have to be strong down the middle and if you look at it the right way, it starts with your goalie," said Attack coach Greg Ireland. "We're in a fortunate position in that we have two good goaltenders. When your goaltender is your leader and your best player most nights, he's going to give you a chance to be in most games."
Defenceman Chris Bigras' power play goal in the third period was the winner while Daniel Catenacci had a goal and an assist in the win. Forward Cameron Brace added two assists for the Attack (20-5-1-2).
The win also continues a solid run for the Attack that has seen the team win 10 of 14 games since Nov. 1.
For the Greyhounds, the team now prepares for a three-game road trip that will take them to three divisional cities. The trip opens up on Thursday night in Windsor before taking the Greyhounds to Saginaw on Saturday and Sarnia on Sunday afternoon.
OTHER SCORES: London 3, Guelph 1; Brampton 6, Niagara 5; Kingston 3, Belleville 1; Sarnia 5, Peterborough 2; Kitchener 5, Plymouth 4 (SO); Saginaw 10, Ottawa 3
Photo courtesy Jim Egan
***********************
Game Recap Proudly Sponsored by WINMAR:
Call WINMAR today at 705 946 8765 or click here for WINMAR Sault Ste. Marie!