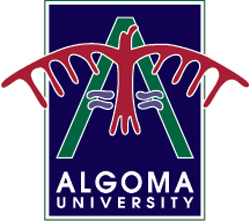 NEWS RELEASE
ALGOMA UNIVERSITY
*************************
SAULT STE. MARIE - The Algoma Wrestlers had a successful weekend away at the Ontario Junior Championships in Kingston, Ontario, with rookie Lauren Towell bringing home her first bronze medal for the team.
The Algoma basketball teams suffered four losses over the weekend in Toronto, Ontario.
Lauren Towell, a native of Sault Ste. Marie, Ontario, and graduate of White Pines Collegiate and Vocational School, wrestled to the podium this weekend in the women's 51 kilogram weight class.
Also of notable finish was wrestler Natasha Doroodian, who placed fourth in the 63 kilogram class.
Head Coach Trevor Manchester was pleased with the results but knows there is still plenty of room for improvement.
"Even though Lauren and Natasha had half decent results, there were a lot of mistakes and technical errors that we need to work on before the OUA championships. Both wrestlers showed moments of excellence, but they didn't wrestle to the level shown in practice in the last few weeks. Lauren fell back to making the same mistakes as she did at the beginning of the season, while Natasha made basic wrestling errors that cost her a top 3 finish."
In other athletics news, the Algoma basketball teams were away in Toronto this weekend, taking on the Toronto Varsity Blues and Ryerson Rams. Both teams returned with disappointing results.
On Friday, both teams suffered losses at the hands to the Varsity Blues.
The women's team showed improvement, jumping out to an early lead, but gave the ball away 4 times to swing momentum in Toronto's favour.
Algoma's top shooter Sydney Resch was forced to sit early on after getting into foul trouble, and the squad struggled to get onto the scoreboard in the second quarter.
Failing to keep up the momentum, Algoma fell 75-35 to the Varsity Blues. Thunderbird Carlie Manners saw her first OUA performance for the team, notching her first point and minutes in her hometown.
Toronto improved to 7-8 in the East.
After a slow start for both men's teams on Friday, the teams got into a rhythm in the second half, going shot for shot.
In a very physical game, both teams were in foul trouble down the stretch.
Late in the third, the Thunderbirds allowed the Varsity Blues to pull away, with the Blues eventually winning 76-69.
Toronto improved to 3-12 in the East. Algoma star guard Reynaldo Carnakie went down late in the game with an ankle injury.
Toronto's Andrew Hill led with 29 points, and Terrell Campbell led the Thunderbirds with 24 in their losing effort.
"We have to do a better job of taking care of the ball," said Head Coach Thomas Cory after Friday's game. "We have to value every possession to give ourselves a chance."
On Saturday, the women had a shaky first quarter against the Ryerson Rams, but redeemed themselves in the second and third by going on a 10-point run to decrease the gap to 11.
Late in the third, the Rams retaliated, applying pressure and stopping the Thunderbirds attack.
Ryerson drove ahead, winning 68-48. Algoma's Resch led both teams with a season-high of 19 points, and Ryerson's Mariah Nunes and Keneca Pinque-Giles both earned 10.
Algoma fell to 0-16 over the weekend, while Ryerson stands at 5-11 in the East.
"I think we did a lot of good things this weekend, tonight especially," said Head Coach Ryan Vetrie after Saturday's game. "We have to continue to improve and carry it over to next weekend."
The men's team was in tough on Saturday, going up against the Rams, who are ranked third in the CIS.
Both teams struggled in the first half, but the second half saw improved shooting from Algoma and Ryerson.
In the end, Ryerson came out on top 70-42.
Both Reynaldo Carnakie and Brett Zufelt were conspicuously absent from the Thunderbirds' bench, as each suffered from food poisoning.
Jahmal Jones scored 20 for the Rams, while Campbell chipped in 18 for Algoma.
Algoma fell to the bottom of the OUA standings, at 4-12, while Ryerson improved to 13-3 in the East.
About Algoma University
Algoma University offers a wide variety of liberal arts and sciences degree options including programs in Psychology, Social Work, Computer Science, Business Administration, Fine Arts, Community Economic & Social Development, and Biology in Sault Ste. Marie, Brampton, Timmins and St. Thomas.
As a partner with Shingwauk Kinoomaage Gamig, Algoma U is committed to respecting Anishinaabe knowledge and culture.
Algoma University has launched its Essential Elements Campaign to expand its campus and offer more scholarships and awards to students.
To learn more, visit www.algomau.ca.
*************************