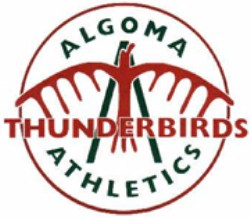 PRESS RELEASE
ALGOMA UNIVERSITY ATHLETICS
********************
Algoma U Thunderbirds Win On- & Off-Court
The Algoma University Thunderbird Varsity Basketball teams were victorious both on and off the court this past weekend securing crucial regular season wins, while doing their part to raise awareness for the Canadian Cancer Society.
On Saturday evening, the Thunderbird Women's team fought off a fourth quarter rally by the Fanshawe Falcons before securing 69-65 victory. Corina Bruni scored 23 points for Algoma. Meagan Delfre and Karissa Kajorinne each added 10 points in the win. The Falcons were led by Felicia Mazerolle who tossed in 21 points. The second game of the evening saw Jovain Wilson score 31 points and Reynaldo Carnakie add 29 as the Algoma Men's team beat top-ranked Fanshawe 85-78.
The Thunderbirds returned to action on Sunday afternoon playing host to the Niagara Knights. The Women easily handled the Knights by a final score of 62-30, improving their record to 7-1, placing them at the top of the OCAA West standings. The Men's team completed the weekend sweep by defeating Niagara 86-68. Jovain Wilson poured in 38 points for Algoma while Alex Campbell led the Knights with 22 points.
The Thunderbirds visit their cross-town rival Sault College this Wednesday evening (Women 6 pm Men 8 pm) in their final regular season games before the holiday break.
About Algoma University
Algoma University is committed to offering an undergraduate education experience unlike any university in Ontario, offering a wide variety of program options. Algoma University also offers accelerated diploma-to-degree programs in Business Administration in Brampton, and two degrees, including a Bachelor of Social Work, in Timmins. As a partner with Shingwauk Kinoomaage Gamig, Algoma U is committed to respecting Anishinaabe knowledge and culture. To learn more about Algoma University, visit www.algomau.ca.
********************