PRESS RELEASE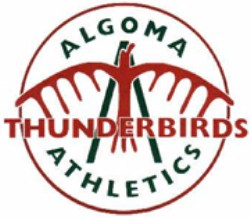 ALGOMA UNVERSITY ATHLETICS
*******************
Algoma U Women's Basketball Starts 2013 on a Positive Note
Thunderbirds go 1-1 at Seneca Sting Classic In Markham
SAULT STE. MARIE, ON - January 7, 2013): The Algoma University Thunderbird Women's Basketball team travelled to Markham this past weekend to participate in the 34th Annual Seneca Sting Classic. The tournament is an annual affair featuring top CCAA teams from across the country. The Thunderbirds opened the tournament with a convincing 62-39 win over the host Seneca Sting.
Algoma started strong, ending the second quarter with a 9-0 run en to take a 33-16 lead into the half. Seneca was unable to stop Corina Bruni, who had 18 points in the first half. Algoma outscored the Sting 20-8 in the third quarter to take a 25-point lead into the fourth. Bruni led Algoma with 24 points while Laura Cooper chipped in with 10 points.
Algoma was in tough for their semi-final matchup against the Vanier Cheetahs, who are ranked sixth in the CCAA. The Thunderbirds got off to a great start as they took advantage of some early jitters from Vanier, and opened a 7-point lead after the first quarter. Vanier started to take control in the second quarter and held a 30-26 lead into the half. The Thunderbirds fought hard in the second half but were unable to close the gap, losing by a score of 50-45.
The next hoops action for Algoma Thunderbirds Basketball is Saturday, January 12, 2013, as they are home to the Humber Hawks. Tip-off for the women's game is 6:00pm, followed by the men at 8:00pm.
All home games are played at the George Leach Centre. Follow @algomautbirds on twitter for live game updates.
Seneca Sting Classic Tournament Recap:
Algoma 62 Seneca 39
Corina Bruni (24 pts, 3 rebs, 3 assts, 5 stls)
Vanier 50 Algoma 45
Corina Bruni (13 pts, 7 rebs)
Gold Medal Game
Algonquin Thunder 63 Vanier Cheetahs 58
Tournament MVP
Abeer Farhat, Algonquin
Tournament All-Stars
Maria Suriani, Humber
Frederique Potvin, Vanier
Zineb Selham, Vanier
Abeer Farhat, Algonquin
Sandre Bascoe, Algonquin
About Algoma University
Algoma University offers a wide variety of liberal arts and sciences degree options including programs in Psychology, Computer Science, Business Administration, Fine Arts, Community Economic & Social Development, and Biology in Sault Ste. Marie, Brampton, Timmins and St. Thomas. As a partner with Shingwauk Kinoomaage Gamig, Algoma U is committed to respecting Anishinaabe knowledge and culture. Algoma University has launched its Essential Elements Campaign to expand its campus and offer more scholarships and awards to students. To learn more, visit www.algomau.ca
*******************