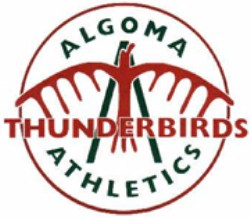 PRESS RELEASE
ALGOMA UNIVERSITY ATHLETICS
********************
Algoma U Basketball Picks Up Win at Canadore
Men's Team Now Tied for 4th Place in OCAA West
(SAULT STE. MARIE, ON – February 11, 2013): The Algoma University Thunderbird Men's Basketball team took care of business on Saturday, beating the Canadore Panthers 73-60. The Women's team had the weekend off.
The Thunderbirds were paced by a balanced scoring attack led by Samy Mohamed's 16 points. David Oduro had 13 points, while Joseph Tubbs and Jon Gordon added 12 points each. Brett Zufelt controlled the boards picking up 13 rebounds. Kyle Romaniuk had 19 points in defeat for Canadore. The win allows Algoma to keep pace in the OCAA West division, as they are now tied for 4th with a record of 11-6.
Both the women's and men's teams travel to London and Hamilton this weekend for key games against Fanshawe and Mohawk.
The Thunderbirds will then close out the season with homes games against their cross-town rival Sault College, Wednesday, February 20th at the George Leach Centre.
Be sure to follow @algomautbirds on twitter for live game updates.
About Algoma University
Algoma University offers a wide variety of liberal arts and sciences degree options including programs in Psychology, Computer Science, Business Administration, Fine Arts, Community Economic & Social Development, and Biology in Sault Ste. Marie, Brampton, Timmins and St. Thomas. As a partner with Shingwauk Kinoomaage Gamig, Algoma U is committed to respecting Anishinaabe knowledge and culture. Algoma University has launched its Essential Elements Campaign to expand its campus and offer more scholarships and awards to students. To learn more, visit www.algomau.ca.
********************