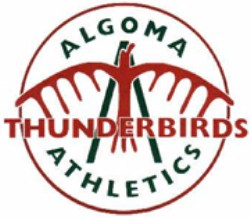 PRESS RELEASE
ALGOMA UNIVERSITY ATHLETICS
*********************
Algoma U Men's Basketball Finishes The Year Strong
Thunderbirds Hang With CIS Opponents In Halifax
(SAULT STE. MARIE, ON – January 2, 2013): The Algoma University Thunderbird Men's Basketball team continued on their Road to the OUA with strong performances at the Rod Shoveller Memorial Men's Basketball Tournament in Halifax, Nova Scotia, from December 29-31.
The tournament is an annual affair featuring top University teams from across the country. Algoma was the only non-CIS team participating, having been granted a special invite due to the scheduled transfer into the OUA in Fall 2013.
The Thunderbirds went 0-3 but were competitive in each of their three games including tight losses to the eventual tournament champion (Dalhousie), the fourth-ranked team in the country (Cape Breton University), and led by double digits in an eventual loss to Laval.
Next hoops action for the Men is Saturday, January 12, 2013, as they are home to the Humber Hawks Game time is 8:00pm at the GLC. The Thunderbird Women's team will be in Toronto this weekend (Jan 4-6) to participate in the Seneca Sting Women's Basketball Classic.
Follow @algomautbirds on twitter for live game updates.
Rod Shoveller Tournament Recap:
Dalhousie 86 Algoma 69
Jovain Wilson 14 pts
Chris Offspring 13 pts (6-6 fg)
Laval 77 Algoma 73
Jovain Wilson 24 pts
Samy Mohamed 18 pts
Cape Breton 79 Algoma 75
Samy Mohamed 29 pts (9-13 3-pt)
Mark Wortham 18 pts
Gold Medal Game
Dalhousie 79 St. Mary's 75 (OT)
Tournament MVP
Tournament All-Stars
Anthony Ashe (Aca)
Rodrigo Madera (StFX)
Kevin Thomas (SMU)
Jeremy McAvoy (SMU)
Kashrell Lawrence (Dal)
About Algoma University
Algoma University offers a wide variety of liberal arts and sciences degree options including programs in Psychology, Computer Science, Business Administration, Fine Arts, Community Economic & Social Development, and Biology in Sault Ste. Marie, Brampton, Timmins and St. Thomas. As a partner with Shingwauk Kinoomaage Gamig, Algoma U is committed to respecting Anishinaabe knowledge and culture. Algoma University has launched its Essential Elements Campaign to expand its campus and offer more scholarships and awards to students. To learn more, visit www.algomau.ca.
*********************