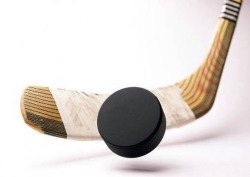 It was a busy weekend for three of the local AAA hockey teams that also saw some success.
The Soo Greyhounds AAA Minor Bantams won two of three games against the North Bay Trappers as did the Soo Thunder Minor Midgets, who won a pair of games locally over the Michigan Nationals. The Great North Midget League's Soo North Stars picked up a weekend sweep of the Kapuskasing Flyers in Kapuskasing.
The Minor Bantam Greyhounds opened up their weekend with a tough 2-1 loss to the Trappers but rebounded to take the next two games by scores of 3-0 and 6-3.
In game one, Lucas Stefano had the lone goal for the Greyhounds. Matt Reid picked up the shutout in game two while Darrell Baker, Mark Tassone and Gage Stepheny scored in the win. In game three, the Greyhounds received goals from six different players en route to the win. Stepheny, Stefano, Tassone, Steven Khull, Holden Brock and Zachary Taylor scored in the win.
The Thunder opened their weekend set against the Nationals with a 6-0 win. Brandon Gordon picked up the shutout while Blake Speers scored a pair of goals. Jacob Palmerio, Matthew Keenan, Cole Lussier and Nick Sicoly also scored in the win.

In game two, the National scored three unanswered goals to pick up a 3-2 win. Speers and Adam McPhail scored for the Thunder in the loss.
The Thunder wrapped up the weekend with a 6-3 win. McPhail scored a pair of goals while Sicoly, Lussier, Jason Uhl and Matthew Caruso also scored.
For the Soo North Stars, a weekend sweep pulled them into a first-place tie with the Sudbury Nickel Capital Wolves. The North Stars also hold five games in hand and had yet to lose a game in regulation time.
On Saturday night, Cody Caron scored a pair of goals as the North Stars picked up a 5-1 win. Jaren Bellini added a goal and two assists in the win. Jack MacLeod and Ryan Vendramin also scored for the North Stars. Cameron Etherington had the lone goal for Kapuskasing.
On Sunday, Vendramin's late second-period goal was the winner as the North Stars completed the sweep with a 3-2 win. MacLeod and Bellini also scored in the win while Marc Dube and Leo Lightning scored for Kapuskasing.
The North Stars have a pair of home games left before Christmas as they face the Nickel City Sons on Dec. 20 and the North Bay Trappers on Dec. 22. Puck drop for both games is 7 p.m.