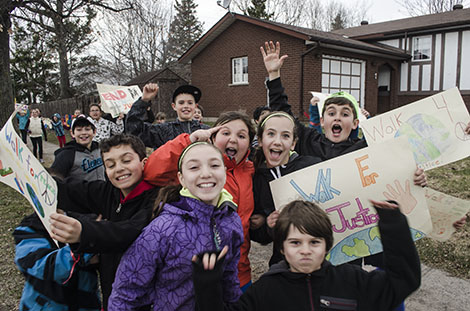 Students from various schools across the Huron Superior Catholic District School Board participated in their annual Walk for Justice today.
Walking from their individual schools, children held their own hand-painted signs and decorations encouraging passing motorists to honk in show of support.
The children marched in the chilly weather with great enthusiasm.
There is a focus on developing and teaching compassion to elementary school students.
"Children need to learn that not everybody in this world is as lucky as they are," said Krista Dodd, kindergarten teacher at Holy Cross.
"They need to have compassion, and give up little bits here and there so that maybe other children can have the necessities in life."
Passing motorists did not disappoint.
Wherever the children walked cars could be hear honking in support, a gesture that was greatly appreciated.
"When the horns beeped and the kids' faces lit up, and they're like "They read my sign, they read my sign," it really honestly touched their hearts that someone they didn't know was looking at something they did, a piece of art they did, and the children loved it."
Schools that participated in the event include Holy Cross, Holy Family, Our Lady of Lourdes & St. John, St Ann, St. Bernadette, St. Francis, St. Mary's French Immersion, St. Paul, St. PiusX, St. Theresa, and Holy Angels Learning Centre.
This event was held in tandem with a provincewide mass being held in the Essar Centre celebrating Catholic Education Week.
St. Mary's College and St. Basil Secondary were two of 192 Catholic schools participating throughout the province, with a highlight being the reading of a message from Pope Francis.
"We hope that this Mass will be another step to bringing the two unique student bodies into one," said St. Basil Secondary Student Trustee, Alex Camirand, in a release.
"As we move closer to St. Basil Secondary and St. Mary's College melding into one school community this is a perfect opportunity to strengthen future relationships."