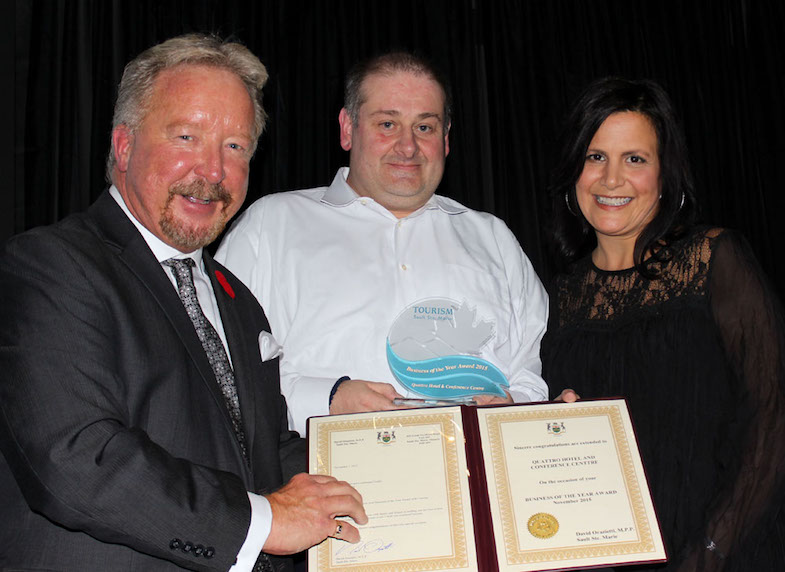 NEWS RELEASE
TOURISM SAULT STE MARIE

*************************
Tourism Sault Ste. Marie hosted its 13th annual Tourism Awards last night.
The evening paid homage to people, businesses and organizations for their contributions in bolstering the community's visitor-friendly reputation.
Held this year at Quattro Hotel and Conference Centre, well over 100 tourism industry and political representatives attended the event.
"The local tourism sector is a tight-knit group that routinely works together on infrastructure projects and joint development initiatives; our annual awards ceremony honours the industry's best and brightest for supporting our community," said Ian McMillan, Executive Director of Tourism Sault Ste. Marie. "I congratulate this year's award winners and thank them for their continued efforts in making our city a warm and welcoming place to visit."
The 2015 Tourism Sault Ste. Marie Award winners are:
Tourism Award of Excellence: This award is for an individual who has significantly impacted the development of tourism in Sault Ste. Marie.
He or she has provided long-standing and exceptional service; has demonstrated an entrepreneurial spirit, leadership and integrity; as well has established a strong legacy through passing on their experience to others to further benefit the tourism sector.
This individual has gained respect of those in the tourism industry.
2015 Recipient: Michael Burtch
Business of the Year: This for-profit business in the private sector has demonstrated leadership by investing equally in both staff and customers through staff training or special programs and through value-added undertakings for the customer.
The presence of this business leads to the provision of a better total tourism product in Sault Ste. Marie.
2015 Recipient: Quattro Hotel and Conference Centre
Customer Service Award: This award is intended to recognize an individual employed in the tourism industry who has contributed to the betterment of the tourism experience for visitors.
He or she exhibits a courteous, friendly manner; is customer-service oriented and regularly goes beyond the expected duties and performances of their job responsibilities.
2015 Recipients: Sault Ste. Marie Ontario Travel Information Centre Staff and Thomas Breen (Quality Inn & Suites Bay Front)
Tourism Ambassador Award: This award is designed to recognize an individual or group who, while functioning as a volunteer(s), has made a significant contribution towards strengthening our local tourism economy, helping to achieve impressive results.
This individual or group has undertaken their work in the capacity of a volunteer and not as part of their regular paid employment.
2015 Recipients: Brenda McEwen & Asima Vezina, organizers of the 2015 Ontario Regional Synchronized Skating Championship
Tourism Sault Ste. Marie Student Hospitality Award ($500 Scholarship): This award is designed to recognize a second-year Sault College Student in the Hospitality Management Hotel and Resort Program.
This award will be selected by the faculty of Sault College based on academic performance in the first year and the cooperative education work term.
In addition, the recipient must have demonstrated a positive contribution to the program and the hospitality industry.
2015 Recipient: Rebecca Savage
*************************
(PHOTO: Quattro wins business of the year at the 2015 Tourism Sault Ste. Marie Awards. Submitted photo.)