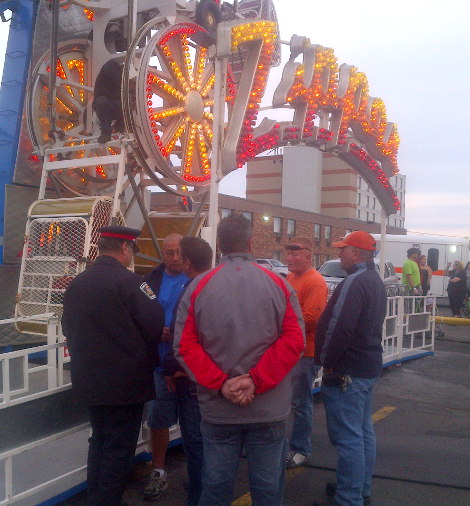 9 p.m. update
Unconfirmed reports indicate that a young woman was seriously injured at the Campbell Amusements midway and fair in Sault Ste. Marie yesterday evening.
Witnesses report she was hurt when a piece of the Zipper dislodged and hit her head.
Her injuries are said to have included an open wound to the head, concussion and skull fracture.
*************************
Original story 5 p.m.
Sault Ste. Marie City Police today confirmed that a young woman standing near a ride at Campbell Amusements Ltd. midway and fair was injured.
The woman was watching the Zipper near the end of the evening when a piece of the ride dislodged, striking her in the head, reported witnesses at the scene.
Police say officers were on the scene to perform usual duties at the fair.
The officers responded to the incident to protect public safety but there is no intent to pursue a criminal investigation.
Loyal SooToday.com reader, Randy Schuran sent us his account of the event and the photo shown.
"While I was standing in front of the Zipper watching my 14 year son on the ride, a plate of metal came detached from the ride striking a young lady, who was also watching the ride in the head.
"She had a nasty gash on her head, (never seen blood pour out like that).
"Police were quick to arrive on the scene to close down the ride.
We stayed with the young girl until she was rushed to the hospital by ambulance."