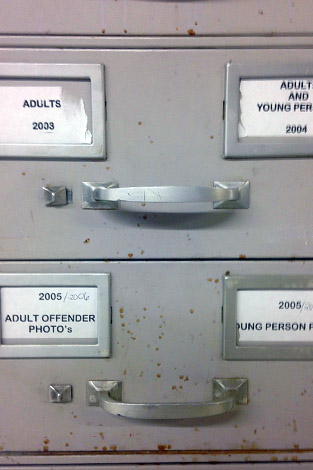 A filing cabinet offered for sale at a local thrift shop held photographs that were probably never meant for public eyes, SooToday has found.

A Duo-Tang style folder was found Thursday afternoon in an unlocked drawer in the cabinet and appeared to show photos of young women for the purpose of identifying suspects in a police investigation.
Constable Monique Baker, of the Sault Ste. Marie OPP, said the documents and photographs within the folder were intended as a training manual and she doesn't believe that the photos depict actual suspects.

"The person who cleaned out the cabinets missed it," said Baker, who added that this manual appears to have been from the late 1980's or early 1990's.
The filing cabinet was being offered for sale at the Habitat for Humanity ReStore on Second Line, drawers were still marked with stickers such as "ADULT OFFENDER PHOTO's" and "ADULT AND YOUNG PERSONS".

The folder inside one of the drawers had the Ontario Provincial Police logo on the front cover and an inside page contained instructions to witnesses on how to identify suspects.

Photographs on the inner pages of the folder were heavily faded, but many were still identifiable.

In a statement emailed at the request of SooToday.com, the Office of the Information and Privacy Commissioner (IPC) of Ontario said that institutions are required to dispose of records of personal information in a secure manner.

This falls under both the Ontario's Freedom of Information and Protection of Privacy Act (FIPPA) and the Municiple Freedom of Information and Protection of Privacy Act (MFIPPA) and applies both to paper or electronic records.

SooToday.com has decided not to publish the photos from inside the folder as the OPP were not able to assure beyond a doubt that those were not photos of suspects, multiple drawers on the cabinet are labeled as having held files on young persons.
The find highlights two questions: why was this folder not removed by the OPP before being donated and why was it not removed by ReStore staff before being offered for sale?

"These things happen, it's part of life," said Colin Glassford, director of operations at Habitat for Humanity Sault Ste Marie and Area.

Glassford added that not every donated fixture can be searched, but after the folder was brought to their attention by SooToday.com it was handed in to the Ontario Provincial Police.

Baker confirmed Monday that the OPP were once again in possession of the folder.

The Office of the IPC said "any individual who feels their personal information may not have been destroyed appropriately would be welcome to file a privacy complaint with our office."
(PHOTO: Detail of front of filing cabinet which contained police documents seen at the Habitat for Humanity ReStore July 3, 2014. SooToday.com/Kenneth Armstrong)