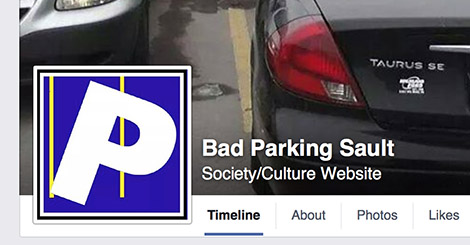 People with bad parking skills beware, a Facebook page which was recently started in Sault Ste. Marie is looking to showcase your inability to park within the lines.

Bad Parking Sault is a Facebook page created by Sault Ste. Marie resident Peter Florio, which is modelled after a similar page in Ottawa, Ont.

"I messaged them asking if I could go ahead making a page just like theirs so we can merge as a series of 'bad parking' pages. Hence the similarities in appearance and description of page," said Florio.

The page invites users to upload photos of people parking in handicapped spots, double-parked, parked on a sidewalk or worse.

Florio thinks a lot of the bad parking results from laziness or just general lack of respect for other people and thinks shame can be an effective tool to combat the problem.

"People dislike looking bad or in the wrong, even though they know they are," said Florio.

Because most parking lots are on private property there is little that police can do besides ticketing people in fire routes and handicapped parking spaces, said Sgt. Ray Magnan of traffic services with the Sault Ste. Marie Police Service.

"Parking across the line is no offence that we can enforce, that would be the property owner who can have that vehicle ticketed if they wish," said Magnan.

Florio has already removed one photo that was posted to his page after the driver complained.

"[You] couldn't see her plate, No one knew it was her until she came on making a big deal about it," said Florio.

Posting to the page is mostly left up to the 273 (at press time) Facebook followers.
Florio spends his time moderating the page and removing posts that include swearing.

"For now I'm just trying to make sure things run smooth and clean," said Florio.