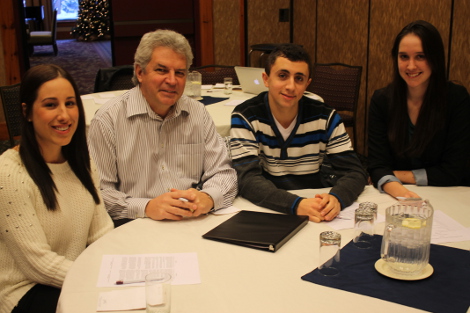 Sault Ste. Marie MP Bryan Hayes marked the first official business day of 2014 by holding a Sault Ste. Marie and area Community Youth Forum at Algoma's Water Tower Inn Thursday.
Only a small number of youth attended the gathering (10 in total), but it was clear the group was intelligent, articulate and interested in getting involved in the political process, not content to sink into apathy and cynicism toward Canadian politics.
Hayes (pictured with Alexis Shamess, Anthony Gallo and Kaitlyn Teller) told SooToday.com that the event was not designed to be an exercise in personal politicking or campaigning of any kind, but rather, an invitation to youth to gather in a relaxed, informal setting to discuss their views on current and proposed legislation.
The Conservative MP told us input gathered Thursday would be taken to Ottawa when Parliament resumes.
"The information I'm gathering today is for me to get a sense of where youth stand on a number of issues, and I will absolutely be sharing it with the appropriate Cabinet ministers and all my fellow MPs," Hayes said.
"Probably what our youth in Sault Ste. Marie are saying reflects what our youth across Canada are saying, and what I hope to accomplish is not only to get youth engaged, but to encourage my fellow MPs to do the same thing in their own ridings."
"The youth are our future and I really want them to understand how they can make a difference in setting and determining legislation."
There was discussion of policy concerning abortion, violence against women, the Members of Parliament Retiring Allowances Act, pending legislation regarding cyberbullying, telecommunications services, the Income Tax Act, shark finning (fins are often removed from sharks while the creatures are still living and used as a natural, traditional cure in shark fin soup, and a proposed ban on shark fin imports was turned down in the Commons last year), Canada's prostitution laws, financial accountability and transparency of First Nations, Canada's marijuana laws and Senate reform.
The Senate scandal dominated Canadian politics in 2013, and Shamess, in a group with Gallo and Teller, told us: "We believe the Senate should be reformed instead of abolished completely because it's very important to have checks and balances, and not have all of the power centralized in the House of Commons…we discussed term limits and accountability in the Senate in terms of expenditure reports."
Gallo, however, said there was a difference in opinion at their own particular discussion table regarding how Senators are appointed, and whether each province is fairly represented in the Senate.
Shamess told us: "We can have a say in the political process at the grass roots…you can join a political party, attend a convention and discuss bills each riding wishes to put forward to the federal government."
"I think Bryan's done an excellent job of showing that young people can be involved in the political process."
Gallo said: "We're the ones they (the government) are making laws for…if we don't make our voices heard now, what voice will we have later?"