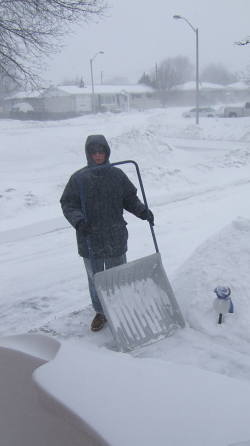 ENVIRONMENT CANADA
SPECIAL WEATHER STATEMENT
*************************
SPECIAL WEATHER STATEMENT FOR: CITY OF THUNDER BAY - KENORA - NESTOR FALLS - DRYDEN - IGNACE - FORT FRANCES - RAINY LAKE - ATIKOKAN - UPSALA - QUETICO - SUPERIOR WEST - RED LAKE - EAR FALLS - SIOUX LOOKOUT - SAVANT LAKE - LAKE NIPIGON - WABAKIMI - GERALDTON - MANITOUWADGE - HORNEPAYNE - NIPIGON - MARATHON - SUPERIOR NORTH - WAWA - WHITE RIVER - PUKASKWA - SAULT STE. MARIE - SUPERIOR EAST - KAPUSKASING - HEARST - TIMMINS - COCHRANE - GREATER SUDBURY AND VICINITY - CHAPLEAU - GOGAMA - KIRKLAND LAKE - NEW LISKEARD - TEMAGAMI - ELLIOT LAKE - RANGER LAKE - MANITOULIN - BLIND RIVER KILLARNEY - NORTH BAY - WEST NIPISSING.
A COLORADO LOW WILL GIVE A SHOT OF SNOW TO NORTHERN ONTARIO SUNDAY AFTERNOON INTO SUNDAY NIGHT.

A LOW PRESSURE SYSTEM DEVELOPING OVER COLORADO WILL INTENSIFY AND MOVE NORTHEASTWARD INTO WISCONSIN BY SUNDAY EVENING THEN CONTINUE ACROSS THE NICKEL BELT THROUGH MONDAY.

SNOW FROM THIS SYSTEM WILL SPREAD INTO NORTHWESTERN ONTARIO THROUGH SUNDAY AFTERNOON THEN TO THE REST OF NORTHERN ONTARIO DURING THE EVENING.
THERE IS THE RISK OF FREEZING RAIN GETTING INTO THE NICKEL BELT LATE EVENING AND OVERNIGHT.
BY MONDAY MORNING SNOWFALLS OF 10 TO 15 CM WILL BE LIKELY IN A BANDFROM ALONG THE MINNISOTA BORDER,TO THE NORTH SHORE OF LAKE SUPERIOR THEN INTO NORTHEASTERN ONTARIO.
THE PUBLIC IS ADVISED TO MONITOR FUTURE FORECASTS AND WARNINGS AS WARNINGS MAY BE REQUIRED OR EXTENDED.
PLEASE MONITOR THE LATEST FORECASTS AND WARNINGS FROM ENVIRONMENT CANADA AT
WWW.WEATHEROFFICE.GC.CA
*************************