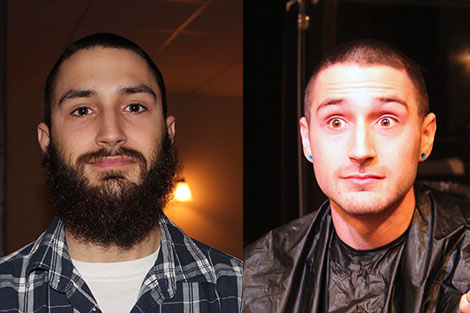 For many men shaving can be a daily ritual, some others prefer a trimmed moustache or a beard.

Trevor Edgar took it a step further in 2013, promising not to shave for an entire year.

The 22-year-old stopped shaving New Year's Day over a year ago in an attempt to raise awareness for Cystic Fibrosis Canada.

His inspiration came from his own family, two of his brothers have the disease and his sister Kristen died of Cystic Fibrosis at just 12 years of age.

Trevor was looking for something to do to make a difference and it didn't take him long to figure out how.

"I started thinking about it… maybe I can do something small and cystic fibrosis was it, three of my family members have it" said Edgar.

He watched as his siblings grew up, unable to go outside for recess.
"It was really hard to watch them that's just me seeing it, they have to live it," he says.

Trevor's brother Spencer, who suffers from the effects of the disease, explains some of the symptoms. "Mostly it's with your lungs, you build up mucus and you cough it up but there's also other symptoms."

"You can also get issues with your liver and pancreas," Spencer adds.

Trevor found the beard to be a good conversation piece, many would ask him why he's growing it out which offered him a perfect opportunity to explain why.

In all, just over $3000 was expected to be donated to Cystic Fibrosis Canada from the year-long effort.

On January 3, 2014 Trevor attended a celebration at the Bible Fellowship Church where he finally shaved the years worth of growth.

It didn't help that the Sault was experiencing a cold snap when he shaved it off "my face was really cold when I went outside" Trevor says, laughing.

Anyone who wishes to donate money to Cystic Fibrosis Canada can do so on the organization's website.

The Canadian government is currently looking into funding for the "wonderdrug" Kalydeco, which potentially could lengthen the lifespan of people with the rare form of CF by a decade or more.
Currently, without funding, Kalydeco costs an individual roughly $300,000 per year to use. A petition has been circulated to try and approve full funding for the medication.
Click to see a video interview with Trevor and Spencer by Jasmyn Rowley on Local2.ca.