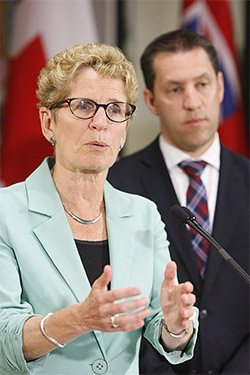 Ontario Premier Kathleen Wynne, the first of the three main party leaders to campaign in Sault Ste. Marie in the 2014 provincial election campaign, visited Holy Cross School Tuesday morning.
Accompanied by David Orazietti, Sault MPP, Wynne took a tour of the school and visited students in a Grade 6 classroom, even lending a hand in taking attendance and taking a close up look at their classroom activities.
While speaking to reporters, Wynne was asked for her input on Sudbury Liberal candidate Andrew Olivier's suggestion that a merger of public and Catholic school boards would be an idea worth looking into.
For the sake of saving tax dollars, is this an idea whose time has come?
"We have no intention of moving in that direction at all," Wynne said.
"What I do believe is that it's very important for school boards to work together, in transportation, program delivery or sharing facilities."
Though this has happened easily in other jurisdictions, Wynne said "it becomes a distraction…there's a lot of work to do in the school system as it exists, there are a lot of improvements we need to continue to make and I'm talking about one today, making sure we have the technology that we need in our schools."
What of Olivier's comments?
"There are always conversations that happen during a campaign and candidates have their own perspective but we have no intention as a party to look at that kind of change."
Wynne announced the Liberals recognize the huge role information technology plays in today's classrooms, and announced her government will, if re-elected June 12, go ahead with a $150 million investment in a three-year Technology and Learning Fund.
Those dollars would be used to buy digital tablets, netbooks, software and cameras for use by teachers and students in everyday lessons.
Wynne and Orazietti touted the Liberal government's record on education since 2003, which includes the hiring of over 13,000 teachers, more students reaching the provincial educational standards in Grades 3 and 6, 83 percent of students graduating from high school as opposed to only 68 percent before 2003, and the fact all four and five-year-olds will begin full day kindergarten this September.
Wynne dumped on her political rivals, saying Progressive Conservative leader Tim Hudak and NDP leader Andrea Horwath "have no vision" for education.
On issues of special interest to Sault Ste. Marie, Wynne repeated her stance that the Sault OLG office will retain its "head office" status (and jobs) as the corporation goes through its modernization process, though the OLG Chair and President still work at the Toronto OLG office.
Speaking to SooToday.com, Wynne gave her response to the current dilemma facing municipally-run daycare centres in Sault Ste. Marie.
Council will have to decide June 23 if it will stop operating municipally-run daycare centres and turn over operation of them to other providers, leaving 32 city daycare employees jobless, while 1,000 children remain on a waiting list for childcare spaces.
The city has said the tough decision will have to be discussed in light of Liberal funding cutbacks.
"We have increased funding consistently for daycare and we will continue to support daycare…we introduced legislation to modernize daycare and we would bring that legislation back (if re-elected)," Wynne said.
"The fact is we're in a transition period because we are implementing full-day kindergarten, we are going to continue working with municipalities to make sure we go through the transition in the best way possible."
"We want to work with daycares in schools but also third party providers who are located off school property to make sure kids in the community get the services they need…overall, our commitment to childcare is solid," Wynne said.
(PHOTO: Premier Kathleen Wynne speaks to media May 27, 2014 at Holy Cross School as MPP David Orazietti looks on. SooToday.com/Kenneth Armstrong)