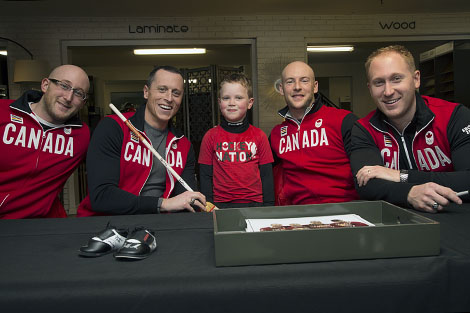 With the opening ceremonies of the 2014 Winter Olympic Games in Sochi just 11 days away, Brad Jacobs says that the team is not about to change their routine.
"Work, gym, curl."
The Continental Cup in Las Vegas; a long-awaited honeymoon for Brad; training in Calgary; multiple appearances across the country; and preparing for their upcoming fundraiser have all been sandwiched between the Roar of the Rings in December and the upcoming Winter Olympics.
To say they have been busy would be an understatement.
Team Jacobs was making one of their appearances Saturday at Pileria's Interiors on Northern Avenue.
Store manager Melissa Spironello hoped that fans would come out to see the team, but also that the team would see how much support they have in the community.
"They are a young team that are going to be in our community for a long time, and we're fortunate enough to have them here… we would like them to stay here and see the support they have," says Spironello.
One of those fans was Brookelyn Takacs, who has watched the team on TV, and is looking forward to watching them from home during the Olympics.
Her aunt, who works on the same floor of the OLG building as team member E.J. Harnden, brought her to the event with her Team Canada t-shirt to be signed.
"I feel kind of excited, really excited, actually," she said while waiting.
John Martens brought two Team Canada sweatshirts to be signed, one for himself and one for his cousin in Saskatchewan.
"We'll send it to him and tell him we got great curlers here, too," Martens joked.
One of the more interesting items the team was asked to sign was a broom for young Carter McClelland (shown above with the team), which was given to him by his aunt.
He doesn't curl yet, but he will be watching the team compete in Sochi.
Only one event remains before the team leaves for Sochi, their 500-seat fundraiser set for January 28th.
"It's pretty much sold out, you could call it sold out," says team skip Brad Jacobs.
When asked about what preparations the team is making specific to the Olympics, team member E.J. Harnden says they are trying not to over-think it.
"At the end of the day we don't want to approach it any differently than any other event we've played in, our formula has proven to be successful so far and just keep doing what we're doing," says Harnden.
For more on this event, please click here