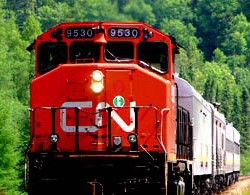 The Working Committee dedicated to preserving the ACR's Sault Ste. Marie to Hearst passenger rail service is reaching out to third parties with the will and expertise to run the service on a viable, long-term basis.
"We (the Working Committee) have an approach we're going forward with, and that is seeking expressions of interest from a number of organizations or parties that might be interested in operating it (the Sault to Hearst passenger rail service)," Tom Dodds, Sault Ste. Marie Economic Development Corporation (EDC) CEO, told SooToday.com.
On a visit to the Sault in April, Lisa Raitt, federal transport minister, announced a one year extension of $2.2 million of annual federal funding to subsidize CN's running of passenger rail service between the Sault and Hearst.
The end of the annual federal subsidy and CN's resulting, abrupt announcement it would end Sault to Hearst passenger rail service came in January of this year, and would have seen an end to the service April 29 had it not been for aggressive lobbying.
The move by CN would have put an end to passenger rail service between the Sault and Hearst, with no rail connection to the many lodges and cottages along the route.
Raitt told stakeholders it was time for them to find a private sector solution to keep Sault to Hearst passenger rail service running after March 31, 2015.
A Working Committee (chaired by Joe Fratesi, city CAO, and co-chaired by Dodds), consisting of such stakeholders as the city of Sault Ste. Marie, the Sault EDC, owners of tourist lodges and cottagers along the Sault to Hearst line, and passenger train groups such as the Coalition for Algoma Passenger Trains (CAPT) was formed in February.
"We've had a number of businesses that are in the business of operating passenger train services come forward to us," Dodds said.
"We have a timetable that would have us finding a third party operator sometime in the fall, or at least identifying a set of them and going with one that would make the most sense for us, and then make the case back to the government that this is the way we would like to see things move forward."
"The third party could be a business that has expertise in promoting a railway and use the existing rail cars and equipment and look at raising the number of passengers to profitably operate the railway, or the other one could be an actual rail operation that would add the Sault to Hearst passenger rail line to its existing operations, maybe with different equipment like Budd cars to make it more cost effective," Dodds said.
Dodds said he did not think provincial government assistance to operate the line is "an unreasonable proposition."
Dodds said he felt user groups would not be opposed to higher passenger fees in order to save the Sault to Hearst passenger rail service, recalling past community efforts to save the Sault Greyhounds and Searchmont.
Dodds added the Committee would like to see the third party of choice also revive operation of the Agawa Canyon Snow Train and oversee summer and fall Agawa Canyon Tour Train trips as part of the bundle.
The Agawa Canyon Snow Train was cancelled by CN in November 2013 for what it considered stagnating customer demand, despite $11.2 million in spending by CN, the provincial and federal governments for the purchase of upgraded coach equipment and onboard audio/video technology for Snow Train travellers to enjoy.
CN, at the time, said it would concentrate its efforts on promoting summer and fall Agawa Canyon Tour Train trips.
Dodds said there is the possibility the Committee may still need to go to the federal government for $1.5 million, or $1 million, depending on ridership levels, as transition funding, but remains confident the line will be viable in the long-term.
Dodds said he felt such a request to Ottawa for transition funding would not be unreasonable since the federal government already subsidizes two other remote rail lines, for both freight and passengers, one in the Quebec/Labrador area, the other in Manitoba.
Meantime, the Coalition for Algoma Passenger Trains (CAPT), has begun a campaign of sending thousands of postcards, addressed to Raitt, Conservative Sault MP Bryan Hayes and Carol Hughes, New Democrat MP for Algoma-Manitoulin-Kapuskasing, to remind them of the importance of the Sault to Hearst passenger rail line.
The cards, distributed by the Algoma Region Cottagers Association and by CAPT on the passenger trains, point out rail is the only means of transport into the Sault to Hearst region, a region which generates $38 million to $48 million in direct and indirect economic activity, according to a recent study by BDO Canada.