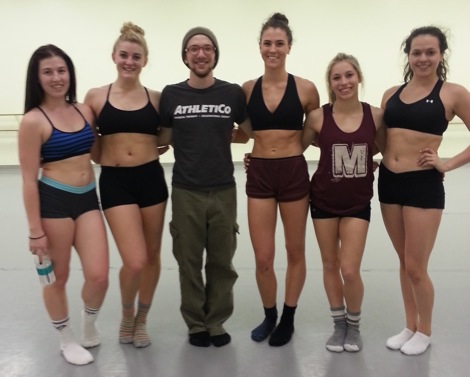 NEWS RELEASE

STUDIO DANCE ARTS

****************************
Sault dancer among Top 25 to watch according to international trade

SAULT STE. MARIE - Johnny McMillan, Sault native and former Studio Dance Arts dancer, has received top accolades in this months issue of Dance Magazine, the leading international trade magazine for the dance community.

In addition to an impressive review of his latest choreography and performance piece with the elite Hubbard Street Dance Chicago, he is mentioned under the top 25 dancers to watch for in 2013.

The top 25 are selected by contributing writers to the magazine and senior advising editors.

Together they determine who is on the verge of a breakthrough - who has all the potential to become the next big start of the dance world.

Many of the former picks are now principal dancers, artists making some of the field's most challenging and exciting work, or once fledgling, and now established companies.

"Johnny McMillan, a fleet, boyish fellow of 20, is a fluid yet expertly articulated dancer who instantly catches your eye." - Dance Magazine, January 2013 issue

Johnny grew up in the Sault and like many boys here, played hockey for a good portion of his youth.

He started his dance training at the age of 12 at Richard Kim's Studio Dance Arts.

During his time there he received invitations to many top institutions such as the National Ballet of Canada, the Royal Winnipeg ballet and the prestigious Interlochen Arts Academy which is where he first caught the choreography bug.

In August 2011 he joined the Hubbard Street 2 in Chicago and was accepted to the main Company in May of 2012.

During the holidays, Johnny came home for a visit.

While here, he spent time at his former training ground and the current competitive company dancers at Studio Dance Arts were lucky to receive a choreography piece set by him and a weekend of training from their own dance star.

Based in New York City, Dance Magazine has been the most influential trade magazine for the international dance community for the past 80 years.

Studio Dance Arts is proudly celebrating its 10th Anniversary this year.

Watch for special performances and events with a spectacular, never before seen celebration showcase this June.

To learn more visit here.

****************************
Pictured: Johnny McMillan with Studio Dance Arts Competitive Dancers December 2012.