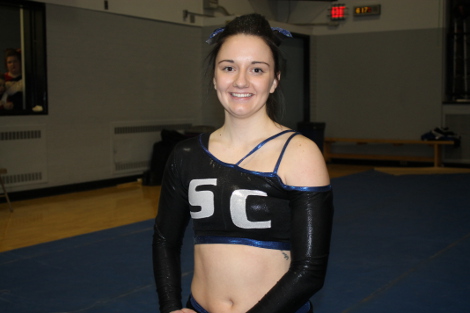 At one time, cheerleading consisted of pom poms and chants.
As entertaining and appreciated as that is by sports teams and fans, cheerleading has evolved into a highly-skilled combination of gymnastics and dance skills, requiring dedication on the part of each individual cheerleader and each cheerleading team, such as the Sault College Cougars Cheerleaders.
It requires teamwork and trust, as cheerleaders join together to form human pyramids and catch a team member after she flies several feet into the air and descends back into the supporting arms of her teammates.
Sault College student and Cougars Cheerleader Danni Krumins (pictured) is so dedicated to cheerleading that she plans to attend an American University and compete on an elite level cheerleading team.
To support Danni (a student currently enrolled in Sault College's Occupational Therapist Assistant and Physiotherapist Assistant program), the 27-member Cougars Cheerleading team and YMCA Soo Allstars Cheerleading team hosted a Cheerleading show and dinner at Sault College Saturday evening to raise funds and help Danni reach that goal.
The Cougars Cheerleading team, in fact, now intends to raise funds every year to help a team member reach her goals.
About 80 people, including Sault College students, their families and other community members, attended Saturday's event to support Danni.
Cougars Cheerleading coach Caitlyn Nelson, a student currently enrolled in the postsecondary institution's Public Relations and Event Management program (PEM), started Sault College's cheerleading team three years ago.
Speaking to SooToday.com, Nelson said: "Cheerleading has really evolved."
"Since we've started this at the College there's been a lot more excitement about cheerleading around the city…the YMCA also has a cheerleading team and there are a lot of local athletes that have the potential to go to elite universities outside of the city and outside of this country and compete on amazing teams."
"Sault College is a really, really great starting place for them to learn all the skills they need to get to that level," Nelson said.
"We're recognizing there's a need for some financial support to help our cheerleaders get to where they need to go and Sault College has been great in devoting its time and efforts to making sure everybody reaches their dreams."
Krumins said she was delighted her fellow cheerleaders organized Saturday's fundraiser for her.
"Caitlyn and I were just joking about it, but I never thought this would actually happen, so this is overwhelming and exciting," Krumins said.
"I've been in contact with some coaches at universities in the States, one in Pennsylvania and the other in Wisconsin…they have acrobatics and tumbling teams, a combination of gymnastics and cheerleading, both of which I love very much."
Krumins has formally applied to both schools and is hoping to receive notice of acceptance soon, with the intention of starting her U.S. education in the fall.
One program is Athletic Training, the other is Sports Management and Marketing.
"Either program is good, as long as I'm involved in sports," Krumins said.
Krumins added: "Cheerleading is a lot more physically involved than what a lot of people think it is…there are stunts, lifting, tumbling."
"You really have to be physically and mentally strong and have trust in your teammates."