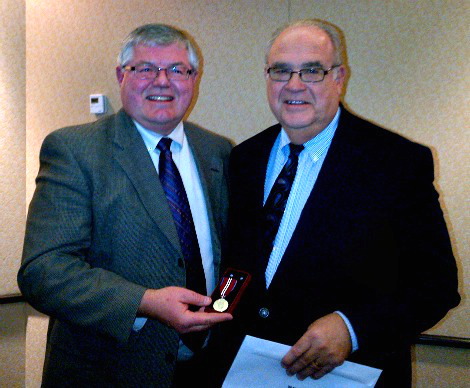 William (Bill) Malpass has been awarded the Queen Elizabeth II Diamond Jubilee Medal in recognition of dedicated service to the community and to Canada.
The Diamond Jubilee Medal was created to mark the 60th anniversary of Her Majesty's accession to the throne.
The medal honours outstanding Canadians for their contributions or distinguished service to their fellow citizens, to their community and to their country.
Bill has been active in the community since coming to Sault Ste. Marie with the Toronto-Dominion Bank in 1975.
In 1983, Bill received a Provincial appointment to the Police Services Board as Vice Chair and Chair for almost 10 years.
During this time he served with the Ontario Association of Police Services Boards in numerous capacities including President and was granted an Honorary Membership.
In 1992, The Ontario Association of Chiefs of Police hired Bill as their first Executive Director of the then 42-year-old association and corporate headquarters were established in Sault Ste. Marie.
During his tenure, the association undertook many initiatives including being licensed to deliver the Constable Selection System throughout the province.
Recognizing the need for executive training a competency-based executive development Police Leadership Program (PLP) was developed in partnership with the Joseph L Rotman School of Management (University of Toronto).
The Association office was moved to Toronto on Bill's retirement in 2006 and his contributions were recognized by granting him Honorary Member.
Bill has served on numerous boards including an appointment as public representative with the Certified General Accountants of Ontario (CGA) serving on numerous committees since his June 1994 appointment.
He continues to serve this 20,000 member organization as a board member.
"I am most humbled by this honour and the nomination submitted by the Association of Chiefs of Police, I have thoroughly enjoyed my involvement with various groups over the years," said Malpass.
Bill was presented his medal in Toronto by Ron Bain, Executive Director of the Ontario Association Chiefs of Police while attending the Board meeting of the Certified General Accountants.
*************************