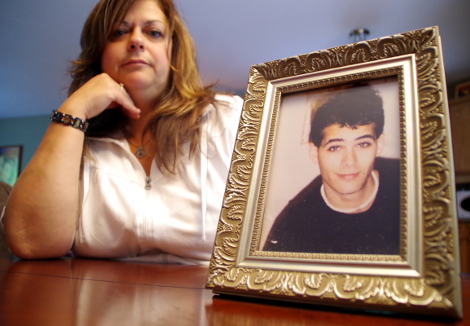 For more than 20 years, Robbie Furgiuele's sister has held onto the faint hope that he would someday turn up and walk back into her life.
Lisa Foggia still feels that hope, but lately she says it is accompanied by a feeling of determination.
Determination to finally find out what happened to her younger brother.
"I think you realize at a point in your life what's really important," said Foggia.
Furgiuele has been officially missing since 1991, though Foggia said even family members aren't sure exactly when he disappeared.
As far as Foggia knows, he was last seen in October, 1991 in Squamish, B.C., where he lived with his girlfriend and worked at an IGA grocery store that no longer exists.
Furgiuele, a father of two, grew up in the Sault, but moved to B.C. shortly after high school.
Foggia and her twin sister weren't much older and while the family worried when Furgiuele's weekly phone calls stopped, the family assumed he would someday get back in touch, she said.
"The days turned into years and the next thing you know you're standing there and your brother is not around," said Foggia.
"We did contact RCMP, but they said there was no trace," said Foggia.
About a year ago, she started posting about her brother on Facebook and trying to retrace what few leads the family had about his disappearance.
She went so far as to have posters put up in Vancouver's notorious Downtown Eastside.
Last month, Media for the Missing published a heartfelt letter from Foggia to her brother, letting him know that the family still misses him and wants to see him again.
Foggia said she knows the idea that her brother might be out there and able to read the letter is the best possible scenario at this point.
She said she knows there is a good possibility he died 24 years ago, but cases like the one recently of an Ontario man found alive in the U.S. after going missing three and a half decades ago give her reason to hope.
Ontario Provincial Police revealed this month that Ronald Stan, who went missing after a fire in 1977 and was declared dead in 1986, had been living in the U.S. all these years under another name.
"That's what people hope for, why loved-ones hold out hope," said Foggia.
RCMP looked into Furgiuele's disappearance at the time, but she said the Mounties weren't able to extend their search into the U.S. and at this point the case is no longer active.
She said she hopes her efforts will result in a new lead.
"Someday, somebody might stand up and say 'I'm going to tell,'" said Foggia. "That's all it takes, one person."
Until then, Foggia says she will continue to hope that her brother will walk back into her life.
*************************
The following is Lisa Foggia's letter to her missing brother:
Oh Robbie!
We all love you and want to see you again. It has been way too long and we are all awaiting news to have you returned home to all of us.
Mama and Papa, as well as me and Laura, long to hear news that you are returning home to us where you belong.
We all love you so much and we just want you to be okay.
All of your nieces and nephews are all grown adults.
They don't remember you because they were so young, and at the time you had two nieces, Tia and Jamie- Lee.
Well, you also have another niece and 3 nephews and they would all love to meet you someday.
Their names are Levi (who is my son) and Matthew, Mac and Briana. (Laura's kids).
I remember some wonderful times from our childhood, when we used to play Planet of the Apes or Charlie's Angels outside together.
Remember?
Those were good times and remember playing hockey at night under the lights in the laneway behind our house?
I am so sorry as we grew older that we grew apart.
Me and Laura were dealing with our own lives while you were building yours and moved out to British Columbia.
Growing up, and having kids, the years just slipped by and we are all still here without you.
I may not be able to see you Robbie, but you are always with me.
I think of you every day and I am working hard in trying to bring you back home.
Mama remembers the weekly phone calls you made to her and how you never missed a week she said.
I speak to Mama about my search for you, and she sheds tears immediately at the sound of your name.
I don't talk too much about it though, because I know it hurts her, but when I have something positive to tell her she smiles and says, "Maybe he come home", which is what we are all hoping.
We don't mention your name to Papa though because it hurts him too much.
He tears up and leaves the living room.
He just can't handle it and it makes us all very sad to see him like that.
You have two beautiful children Robbie who are now adults, and your son has two children of his own.
Beautiful boys.
You would be so proud.
Your pictures are in my living room and I talk about you all the time to people I know and to my kids.
I want you to know Robbie that you are not forgotten and I will not stop looking for you.
EVER.
I have made it one of my life's missions to find out where you are, what happened and to bring you home.
I take care of your Facebook Page every day, morning and night, and I have posted other missing people on it too, in hopes that their loved ones will also be reunited.
We put together a video about you and it brings tears to my eyes every time I watch it.
It has pictures of me, you and Laura when we were little.
You are such a good looking man with a heart of gold as I remember you.
We need to know that you are okay.
We love you so much Robbie and we just want you home.
We want to share in your life and we want you to share in ours.
You are a missing piece in our lives and our lives are not the same without you.
I continue to look for you Robbie and talk to many different people in hopes that they can help me to find you.
Every day I am hoping that we are getting closer and closer in finding you.
I wish we could go back in time and do things differently.
We were all kids, living life, never knowing it was our last time seeing you.
That is my regret.
But make no mistake.
You were loved then and you are loved now, and nothing or no one can ever take that away from us.
Always on my mind. Forever in my heart.
Until we meet again dear brother.
I love you.
God bless you Robbie... Lisa xoxo
*************************